Monday, July 20, 2009 3:42 PM PT |
By Errol Lewis
---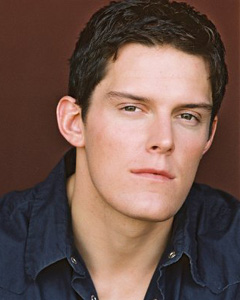 (SoapOperaNetwork.com) — Drew Cheetwood, 26, portrays Milo Giambetti on ABC's "General Hospital," but did you know that he is also the personal trainer for Robert Guza, Jr., the soaps head writer, and much of the cast and crew of the soap?
Cheetwood is the younger brother of Derk Cheetwood (Max Giambetti, "General Hospital") and is cousins with Tyler Christopher (Nikolas Cassadine, "General Hospital"), but he didn't get the job as Milo because of them. He got it because the show was interested in filling a role as one of Sonny Corinthos' (Maurice Benard) bodyguards. Since he's always on set helping the talent and crew get in shape, it was only a natural choice to seek Drew out for the role. But which career does he prefer? "Acting for sure. I moved out to LA to be an actor."
While "General Hospital" has provided Drew with his big break, he is still looking for that one role that will make him a star. "I'm getting offered stuff, which is fortunate. That's what I'm doing now," he said, though he couldn't be more specific on what those things were.
When Drew's not acting, he's in full-on Personal Trainer mode. "When I was little Steve Burton and Derk used to pick on me. They used to give me noogies and put me in headlocks. [But] when they come into my domain, they are mine," he says. "The tables have turned. When Steve shows up, watch. I will make him go down and do push ups. I'll just say, 'Steve it's time."' In case you were wondering, Drew does have personalized workouts set up for the actors, it just "depends on what they are going for," says Cheetwood. "Most of the guys want to look in shape."
As far as the Social Networking world is concerned, Drew is only familiar with MySpace. "I did MySpace, which I think is so 2007 – it's now Facebook and Twitter. With my schedule, I can't really get back to people as I should."
"General Hospital" airs Weekdays on ABC. Weeknights on SOAPnet. Check local listings.
---
Discussion: One Time at Fan Camp: Drew Cheetwood

---
SOAPnet
ABC
General Hospital
Steve Burton
Maurice Benard
Derk Cheetwood
Drew Cheetwood
Airtel Plaza Hotel
GH Fan Club Weekend
2009