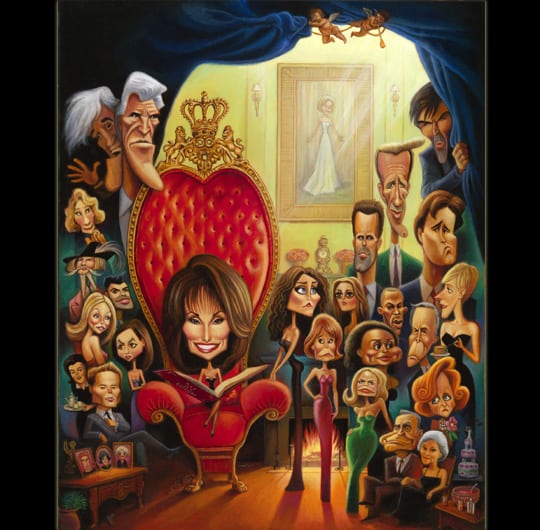 Photo: David O'Keefe Studios
(SoapOperaNetwork.com) — "All My Children" ended its television run on Friday, September 23, 2011, but pop-culture artist David O'Keefe has captured the essence of what made the soap opera special to millions of viewers for more than 41-years courtesy of his new painting "A Tribute to 'All My Children' – Pine Valley," which took two months from concept to fruition.
"'All My Children' has been a part of my family's life for so many years, I feel a real connection to all these people. I want to capture those precious memories by creating this tribute piece to honor the impact the show has had on our culture," said O'Keefe of the painting.
"This is a very historical and personal piece for David," said Wayne Curtiss, Managing Director of O'Keefe Studios. "We look forward to viewer feedback on the painting."
"David is one of the best kept secrets in the art world," said Craig A. Fleming CEO/President of Tired Walls Inc., based in Orlando Florida. "His transformative style not only brings new life to the images he paints but also reminds you of the pure genius in his work."
Ranging in price from $30 (plus $15 shipping) to $599 ($38 for shipping), "A Tribute to 'All My Children' – Pine Valley" details 41 elements for each of the soaps 41-years on television. Of course highlighted in the center of the painting is series star Susan Lucci, who portrayed icon Erica Kane for all 41-years of the ABC soap opera. Soap Opera Network has your exclusive breakdown of who's in it and what each point means.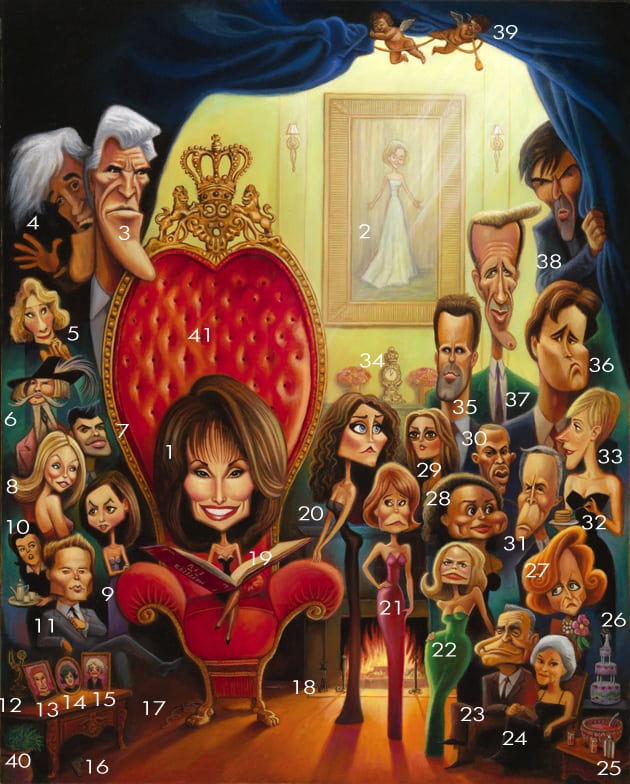 41 ELEMENTS FOR 41 YEARS
1 Erica Kane
2 Agnes Nixon – the show's creator
3 Adam Chandler
4 Stuart Chandler
5 Marian Colby Chandler
6 Billy Clyde Tuggle
7 Mateo Santos
8 Hayley Chandler Santos
9 Bianca Montgomery
10 Naomi the maid (cameo by Rosie O'Donnell)
11 JR Chandler (reaching for the bottle)
12 Susan Lucci's illusive Daytime Emmy
13 Myrtle Fargate
14 Phoebe Tyler Wallingford
15 Mona Kane
16 gun (murders and shootings)
17 rope – symbolizing kidnapping
18 knife (stabbings)
19 AMC Photo Album
20 Kendall Hart
21 Brooke English
22 Liza Colby
23 Dr. Joe Martin
24 Ruth Martin
25 punch bowl and flask
26 wedding cake
27 Opal Gardner Cortlandt
28 Angie Baxter Hubbard
29 Greenlee Smythe
30 Jessie Hubbard
31 Palmer Cortland
32 poison pancakes that did Dixie in
33 Dixie Cooney Cortlandt Martin
34 1:00pm – Make sure the VCR is set
35 Ryan Lavery
36 Tad Martin
37Jack Montgomery
38 Dr. David Hayward
39 Cherubs- a staple of O'Keefe's paintings (inspired by Peter Paul Rubens)
40 "Janice" -O'Keefe has been hiding his wife's name in his works for 27 years. She also happens to be a longtime fan of AMC.
41 Queen's Throne – for Susan Lucci as Queen of the daytime soaps
Facts: Bianca Montgomery as portrayed in element #9 is Eden Riegel's version of the character. More element facts to come.
To purchase your very own copy of the painting, head on over to O'Keefe's website. If you have any questions or concerns about your order, you can call (813) 254-5056 Monday through Friday.
David O'Keffe Retrospect and Inspiration
David O'Keefe discusses his Tribute to Pine Valley and what it means to him.
A Tribute to Pine Valley: A Step by Step Detailing
David O'Keefe's creation, A Tribute to Pine Valley. This video not only takes you through David's inspiration, but also lets see the behind the scenes looks at the creation of this masterpiece. A must see for any fan of All My Children.
About David O'Keefe and David O'Keefe Studios
David O'Keefe was raised on Hollywood, sports and rock and roll music. David has an acute awareness for the images and personalities that have colored the lives of his generation. He just sees things differently – more intensely, edgier, somewhat more perspicuous than the average spectator. The pop culture icons that we idolize, glamorize and glorify, O'Keefe visualizes for us in all their humanness as well as their stardom.
His sardonic caricatures and humorous illustrations have appeared on the covers of Sports Illustrated, Sports Illustrated for Kids, Mad Magazine, The Village Voice and within the pages of TIME. His advertising clients include Coca-Cola, Waffle House, Fuji and SunCom Communications.
O'Keefe has won numerous awards from such organizations as The Society of Illustrators (NY and LA), American Illustration, Communication Arts, National Headliner Awards, Dimensional Illustrators and the Society of News Design.
Recent image releases include tribute to: Godfather I & II, Caddyshack, Animal House, Seinfeld, I Love Lucy and the Beatles.