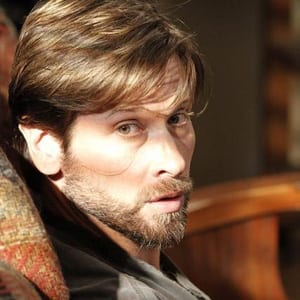 (SoapOperaNetwork.com) — "One Life to Live" Episode Recap – Wednesday, September 7, 2011.
IT HAPPENED TODAY…
Téa confronts Todd and slaps him. He accuses her of falling in love with a fake.
John, Brody and Natalie go over the forensics report on the gun. It was a 9 mm, which, John points out, even Brody carries. John sends Brody off to check out Todd's story about Louie and the gun. John sympathizes with Natalie over her loss.
John interrupts Téa and Todd and tells Todd they weren't able to check out his gun story because Louie is MIA. Todd had better get a lawyer. Todd to Téa: How about you?
Victor's secretary tells Natalie that she has information and it's about a cop: Brody Lovett.
Echo confronts Rex with the gun. He insists he didn't use it. even if he was tempted. He tells her about digging up Gigi. Shane overhears Echo and Rex talking about the gun and the shooting. Echo checks the gun and realizes it has been fired, despite what Rex said.
Cris and Jessica pull out of their kiss and admit that a spark is still there. Cris shows her a love letter he wrote to her that she gave back. Meanwhile Ford fantasizes about Tess. Tess rails at him for not fighting for her. He returns to Jessica to give it another shot and sees her kissing Cris. Ford wants to know what's up with her and Cris. Cris goes to the BD and gets an important message that surprises him.
On the Next One Life to Live…
Erin Torpey makes a special appearance.
Baz and Starr talk about their music.
Ford and Jessica reach an understanding.