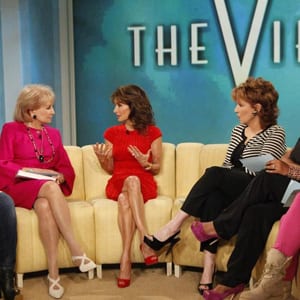 (SoapOperaNetwork.com) — As Soap Opera Network reported late last week, Susan Lucci has added a scathing new chapter to "All My Life" scheduled to be included in the paperback release of her memoir on September 13. In the new epilogue, the actress who is known for being too well-mannered uncharacteristically blasts ABC Daytime Chief Brian Frons for what she feels is his mismanagement of ABC Daytime and his general arrogance. Following a weekend of book leaks, ABC released what could only be construed as a biting statement about Lucci's book addition and conduct. On Tuesday – coincidentally or not – after getting information from an unnamed source, a Deadline.com article held back few jabs after revealing the actress turned down the offer to continue with "All My Children" online.
An epilogue is defined as a piece of writing usually included to conclude a body of work. On Saturday, September 3, as aforementioned, the New York Post not only revealed more juicy tidbits from Lucci's new memoir epilogue detailing her feelings about the cancellation of the soap she put on the map in 1970, they also included a response from ABC in regard to it. An ABC Daytime spokesperson told the Post "we have all the respect in the world for Susan, and are sorry she felt the need to write this epilogue to an otherwise incredible career." The negative connotation that statement ends on is hard to miss. Coincidentally on Tuesday, September 6, Deadline.com announced that Lucci officially turned down Prospect Park's more than fair offer to remain with the show due to trying to "gouge the producers for more money." According to the article, Lucci was offered the same pay she currently receives at ABC Daytime but demanded a raise and perks including more time off. The article implies that the future of "AMC" is now in jeopardy and "One Life to Live" will become the focus of the new venture due to Lucci's lack of cooperation with the company that has licensed "AMC" and "OLTL" from ABC. In the same article it was also announced that the production company had secured several "OLTL" stars to continue post-ABC Daytime including Llanview's main leading lady Erika Slezak.
For her part, despite the addition to the book being written before Lucci learned of the licensing deal with Prospect Park, the Emmy Award winner recently told TV Guide Magazine's Michael Logan she has no regrets about writing what was on her mind. Just last week, Lucci seemed to be a good bet to continue with Prospect Park. Once again speaking to TV Guide Magazine, she had this to say about the venture at that time: "my heart is there… I think it's a very, very exciting possibility. I think that Prospect Park, the men involved there, have a wonderful, successful track record." This leaves fans and the press alike wondering if ABC Daytime's hurt feelings about Lucci speaking her mind was the real culprit behind this sudden turn of events or at least the negative tone now surrounding her current negotiation stand with Prospect Park. Jamey Giddens, from Daytime Confidential, reports that this may not be the end of talks. "AMC" creator Agnes Nixon is  still hoping to help Prospect Park reach an agreement with Lucci.
Whatever the case, on September 23, Lucci is slated to co-host "The View'" for a special tribute to "AMC." "The View" is a part of ABC Daytime and the talk show's daily hot topics may become even more heated if any of these topics reach the discussion table.