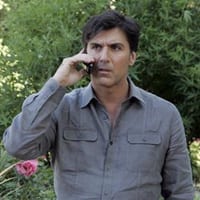 (SoapOperaNetwork.com) — "All My Children" Episode Recap – Monday, September 12, 2011.
IT HAPPENED TODAY…
Cara tells a shocked Kendall that she's pregnant with David's baby. Kendall tells Cara she really needs to think about what comes next as they discuss the many sides of Dr. Hayward. She promises to keep her mouth shut about Cara's condition.
Zach refuses to let David treat Ryan. He asserts that he will take care of anybody who gets in the way of Project Orpheus. David is appalled as Zach prepares to shoot an antagonistic Greenlee and ends up incriminating himself in his anger at the apparent madman. David reveals that he partnered with the casino owners for funding and was privileged to their plans to murder Zach to enable their continued laundering of money from the casinos. Later, after learning Greenlee could be a potential passenger on the plane [David] headed to the location to make sure that wouldn't be the case putting him in the position to find Zach right after the crash. Ryan and Griffin get up as Greenlee plays David's confession. Zach reveals he heard David talking while he was unconscious and never could wrap his head around David just happening to be there when his plane crashed. He has been plotting his demise since with some help. Kendall, Cara and Jesse arrive on the scene after getting texts. Cara explains to David that Kendall filled her in on everything. David defends everything he's done for P.O. and accuses everybody else of succumbing to pettiness. David refuses to reveal who his two other patients are.
Maya realizes Angie still doesn't trust her not to just up and leave with Lucy. Frankie explains to Maya that he doesn't believe his mother could survive losing another child. The air is thick between Angie and Jesse as they wait to see the doctor. Angie gets some things off her chest. The tension seems to dissipate a bit after the Hubbard's waiting room discussion.
Film producer Kit Sterling (John O'Hurley) has a thought provoking discussion with Erica.
On the Next All My Children…
Brot makes a confession to Natalia.
Colby turns to Liza for comfort and support.
Who does David still have hidden away?