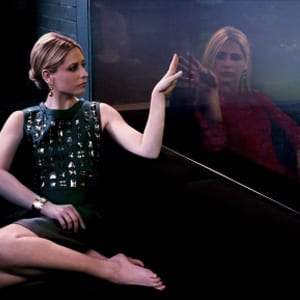 This September, in the aftermath of a big-screen career that never really caught fire, Sarah Michelle Gellar will return to the format that brought her mega-success: Prime-time Television. "Ringer" was officially picked up for at least 13 episodes in the Fall 2011 season by the CW network on Thursday.
In the drama-thriller slated to air on Tuesday evenings, Gellar will play a woman on the run from her past who decides to take over the seemingly more secure life of her twin-sister.
Gellar, of course, rose to fame on the WB/UPN hit series "Buffy the Vampire Slayer" as heroine Buffy Summers. The cult classic lasted seven seasons from 1997 to 2003, started the vampire craze, and birthed the successful spin-off "Angel" starring co-star David Boreanaz.
In a recent online interview, Gellar addressed many things including the cancellation of "AMC" and a possible return to the television series that earned her the 1995 Daytime Emmy Award in the category of Outstanding Younger Actress for the role of Kendall Hart.
The 34-year old actress who was a fan of "AMC" before joining the cast in February of 1993 and has remained one since departing the role a year before scheduled in July of 1995 was very disappointed upon learning of the cancellation. Gellar, who has remained close friends with former "AMC" co-stars such as Eva LaRue (ex-Maria) and Sydney Penny (ex-Julia), gave Wonderwall this very stern and passionate statement on the topic:
"I'm very upset about that. First of all, they had the audacity to cancel it on my birthday. So let's have that discussion. I think it's criminal. I remember pretending to be sick when I was younger and staying home and like watching the ABC soap lineup in bed. And I realize it's tough economic times and it wasn't necessarily financially working, but there has to be a way to make it work. And these shows have been on for 40 years. I'm sorry, [but] I don't see either one of these shows they're replacing with it lasting more than a year. I really don't, and I say that with confidence. And I think, I don't think they tried hard enough to save the genre. And, it's just devastating to me."
Despite issues with Susan Lucci (Erica Kane) that she has touched on only briefly in recent years, the actress is up for a return to the soap opera that put her on the map. But not in the role she originated. The actress has high praise for Alicia Minshew, who successfully took over the role of Kendall Hart in January 2002 and recently became the thirteenth actress in the 41-year history of "AMC" to earn an Outstanding Lead Actress Daytime Emmy nomination. Gellar notes that [Minshew] "does an amazing job with [the role], and it is her character now, so I'd have to play someone else. I could be the UPS man." Gellar insists that she would not hesitate to return for a guest spot if she was contacted by the ABC soap.
Before joining "AMC" at the age of 16, Gellar starred on the syndicated teen drama "Swans Crossing" which aired 65 episodes in the summer of 1992. Her co-stars included future "AMC" star Shane McDermott (ex-Scott) and Mira Sorvino. Gellar's film career included roles in the successful horror flicks "I Know What You Did Last Summer," "Scream 2" and the lead role on the 2004 hit "The Grudge." In 1999, the actress made her first big impression on film audiences playing the bad-girl in the romantic flick "Cruel Intentions;" her kiss with co-star Selma Blair earned her and Blair the 2000 MTV Movie Award for Best Kiss. Gellar made smaller splashes in films such as the "Scooby Doo" series which co-starred husband Freddie Prinze, Jr. and "Harvard Man." Gellar and Prinze, who have been married since September 2002, welcomed their first child, daughter Charlotte Grace, in September 2009.