Copy/paste not allowed. Link only.
(SoapOperaNetwork.com) — Robert S. Woods joined the cast of "One Life to Live" in 1979 as Bo Buchanan. While his current role as Llanview's police commisioner brings him the honor of serving his community by protecting them with his life each and every day, it is Woods' real life work as a humanitarian that makes life most fulfilling. On Thursday, March 24, HeartShare Human Services of New York presented its 2011 Spring Gala and Auction at the New York Marriott Marquis Hotel in New York City. The event, which honors those individuals that have made a difference in the New York area with their commitment to excellence, service and leadership with today's youth, in particular foster children and families in need of special support services. Woods was among the honorees as he was presented with the Linda Dano Heart Award by none other than friend and former co-star Linda Dano (ex-Rae Cummings). Woods was joined by close friends and family along with his extended "One Life" family and others from ABC on his special night. Soap Opera Network spoke with Woods and some of his fellow cast members on what the award meant to him and what Bob means to them.
"Thank you for making 18 years of 'One Life to Live' so much fun," said Hillary B. Smith, who portrays Woods' onscreen wife, Nora Buchanan, on the ABC soap. "I am thrilled that you are being honored [tonight] by such a wonderful, charitable organization. As my husband calls it, 'the real deal.'" As the two have worked together for nearly two decades, one can only imagine what crazy antics they've gotten themselves involved in. Would Smith care to share any funny stories or experiences? "No, because they were usually at my expense," the actress said laughing. "He's a big prankster and he pulls tricks, always on me – other people too, but the one's that always work the best were one's done on me. You can ask him about those [funny] stories."
"Bobby is an amazing guy. I'm very fortunate to have him play my uncle [on the show]," said Melissa Archer, who portrays Natalie Buchanan. "He's a very caring, very giving person. I'm proud of him."
"I've known him practically my entire life. He's been like a second father to me," said Eddie Alderson, who portrays Matthew Buchanan, Bo's son with Nora, and is the real-life brother of Kristen Alderson (Starr Manning). "I love him so much. No one else deserves this honor more than him. He's such a nice and kind human being."
"He is one of Billy's [Warlock] dearest and closest friends," said actress Julie Pinson, who won an Emmy Award for her portrayal of Janet Ciccone on CBS' "As The World Turns" last year and is married to Warlock. "Bob and his wife [Loyita Chapel] have been fabulous to Billy and I since we've been in New York. They've basically taken us under their wing. We go out to dinners, we go to their house in the country, and they just roll out the red carpet for us. We love them. Bob has the biggest heart of anyone I know."
"Bob has really put his share in as far as contributing to the country. He was a Green Beret and his whole life has been dedicated to helping his country and helping out people. He's just a huge giver and I've had the privilege of becoming friends with him and Loyita over the last few years and they are truly heroes in my eyes," said co-star Farah Fath, who plays Gigi Morasco. "The wisdom they have shared with me I will forever treasure. I think he is a lovely, lovely man; they are a lovely couple. They are such good people that I could only dream of growing up to be like them one day. I mean I love them with all my heart and I think Bob completely deserves this honor tonight. He's an impeccable man."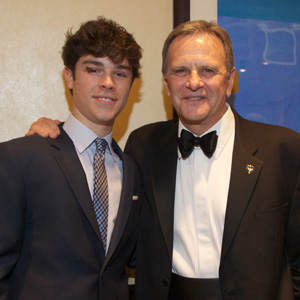 "I've been doing this now for 10 years," said Linda Dano, who presented Woods with his award. "I've had the great honor from HeartShare to give to people the Linda Dano Heart Award. Tonight is extemely special, because Bobby and I are old, old friends. Friends together, friends with Frank [Attardi, Dano's late husband], and I love him so. I was so thrilled when he accepted the award and I know he is a wreck tonight [laughs], but that's ok. That's ok."
What about the man of the night. What are his thoughts on receiving the award? "I don't feel like I've done enough," said Woods shortly after festivities got underway. "I gauge it by Linda Dano and everything she's done for HeartShare. It's her award and she selected me to receive it. Linda and Frank really took this as their own and it means the world to her. It means a lot to my wife [Loyita] and I." Asked if he's a little nervous getting on stage to make a speech in front of everyone in attendance, Woods simply said "Oh, I'm excited." And what does he plan on saying? "I don't have anything written out. I'll just get up and say something straight from the heart and try and keep it brief. I want to wrap it up and get them over to the silent auction because they have some of the most amazing silent auction items. Everything that this organization makes, 90 cents on the dollar, goes right into the program. There are some very committed and dedicated people here. It makes me feel like I should be a kinder, gentler person." According to Woods, seeing an organization like HeartShare helping out our young people the way they do "is humbling because we are all lucky to be actors, to have jobs and work as much as we do, but when you meet these little kids you realize how blessed you are and how blessed they are too to have something like HeartShare. To have a school where kids have a chance to just blossom and become social. It's really moving."
Joining Hillary, Melissa, Eddie and Julie in attendance were co-stars Kristen Alderson (Starr Manning), David Fumero (Cristian Vega), John-Paul Lavoisier (Rex Balsom), Mark Lawson (Brody Lovett), Florencia Lozano (Tea Delgado), Sean Ringgold (Shaun Evans), Gina Tognoni (Kelly Cramer), Billy Warlock (ex-Ross Rayburn) and Bree Williamson (Jessica Brennan). "One Life" Executive Producer Frank Valentini was joined by Senior Producer Suzanne Flynn and Producer John Tomino. Former "All My Children" and "One Life to Live" star Thorsten Kaye was in attendance alongside real-life wife Susan Haskell (Marty Saybrooke). Also there was Stephen Schnetzer (ex-Cass Winthrop) from "Another World" and Tamara Tunie from "As The World Turns" and "Law & Order: SVU" fame. Tunie won the award at last years festivities. In honor of Woods, ABC Daytime reserved a number of tables for their actors and friends of the Woods family.
On the web: HeartShare Human Services of New York
Photography courtesy Thomas A. Montalto/Montalto Photos
Thorsten Kaye
Susan Haskell
Gina Tognoni
Frank Valentini
Mark Lawson
John-Paul Lavosier
David Fumero
Kristen Alderson
Hillary B. Smith
Robert S. Woods
Melissa Archer
Billy Warlock
Bree Williamson
Florencia Lozano
Sean Ringgold
Eddie Alderson
Linda Dano
Julie Pinson
Tamara Tunie