(SoapOperaNetwork.com) — A look at what's happening on "General Hospital" during the week of March 28, 2011.
THIS WEEK ON: GENERAL HOSPITAL
Sam reveals her greatest wish to Josslyn. Patrick & Robin do not make a secret of their reunion on Tuesday, March 29. Lisa sets her sights on Emma's new babysitter: Kristina. Jax is not happy with the position Shawn now has in Carly & Josslyn's lives. On Wednesday, March 30, Shawn is there for Carly who breaks down over the events of the past week. Carly rejects Brenda's attempt to reach out to her. Theo pays the ultimate price for disregarding Suzanne about their grandson on Friday, April 1. Brenda reveals how much she longs to be a mother. Spinelli makes a confession to Maxie.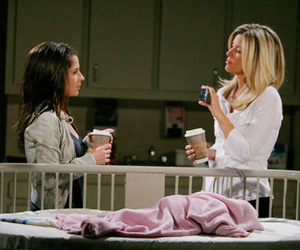 The Inside Story: Too Late to Apologize
Port Charles is rocked by the revelation that Luke was the driver behind Jake's fatal accident. On Monday, March 28, Lucky asks Luke if he was under the influence of alcohol when he hit his son. Jason's rage takes over as he confronts Luke and the hit man ends up on the brink of committing murder. A lost Jason decides to dedicate himself to protecting Josslyn. Lulu reaches out to Elizabeth. Lulu tries to rationalize Luke's drinking habit. Sonny & Luke have an emotional conversation. Dante & Lulu discuss family and the law. Lulu worries about her shattered family. Nikolas reaches out to Elizabeth on Thursday, March 31, who erupts into anger when her eyes fall on the paternity results. Lucky opens up to Maxie. Carly tells Jason that he needs to take care of himself. Jason struggles with his regrets about the decision to stay out of Jake's life on Friday, April 1.
A Closer Look: Love & Bullets
Michael & Abby make love for the first time. On Tuesday, March 29, the lovers lucidity is shattered after a run-in with Brandon. Michael turns to Dante, who bemoans the law for letting Michael down once again. Dante is concerned about just how far Michael will go to ensure Abby's safety. Abby, meanwhile, drops the charges against Brandon to protect Michael. Abby confronts Michael after finding a gun in his things. Jason calls Michael out. Brandon attacks Abby on Friday, April 1. Michael holds Brandon at gunpoint.
General Hospital News and Headlines:
GH ALERTS: WEEK OF APRIL 4, 2011
Suzanne arrives back in Port Charles with a surprise for Brenda.
Robin and Patrick go to marriage counseling.
Nikolas and Brook Lynn makes a decision about their future.
Sam pushes Spinelli in Maxie's direction.