Thursday, November 11, 2010 at 9:15 PM ET by
Errol Lewis
---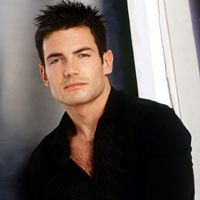 Aiden Turner
Photo: Yolanda Perez/ABC
(SoapOperaNetwork.com) — As previously reported, Aiden Turner, Stephen Amell and Liam McIntyre were up for the role of Spartacus in the Starz original series "Spartacus: Blood and Sand" after series star Andy Whitfield was unable to return to work on the shows second season when he learned his cancer had returned. Now Deadline.com is reporting that neither of the actors vying for the part got the role.
The decision comes as a surprise after the network went through all that trouble in flying all three to New Zealand to screen test and meet with the shows cast and crew.
Despite no actor being offered the role, however, Deadline says that Starz has opted to hold onto McIntyre, while releasing Amell and Turner. The networks decision to hold onto McIntyre theoretically means he will eventually land the role, but according to reporter Nellie Andreeva, Starz is still looking into all options including the possibility of ending the series or bringing in someone entirely new.
Whitfield was diagnosed with Stage 1 non-Hodgkin's lymphoma in early March when "Spartacus" was in pre-production, but was in remission and training hard for the series' second season. In September, Starz announced that the actor was advised by his doctors to immediately resume aggressive treatment for a recurrence of cancer, which caused him to drop out of 'Spartacus.'
"It's with a deep sense of disappointment that I must step aside from such an exceptional project as 'Spartacus' and all the wonderful people involved. It seems that it is time for myself and my family to embark on another extraordinary journey. Thank you sincerely for the support so far," said Whitfield at the time.
"Spartacus: Blood and Sand" averaged 980,000 viewers through out the course of its 13 episode first season earlier this year.
Turner became a household name in March of this year when he joined the cast of "Dancing with the Stars" for the shows tenth season. He performed alongside Edyta Sliwinska. The duo were eliminated during the shows third week. The actor starred on "All My Children" from June 2002 through December 2009.
Stephen Amell portrayed the role of Adam in the first season of the here! series "Dante's Cove." He was replaced in season two with actor Jon Fleming. McIntyre most recently appeared on the HBO series "The Pacific" and is best known for his role in the hit Australian series "Neighbours."
"Spartacus: Blood and Sand" is scheduled to return to the airwaves with its second season in September 2011. "Spartacus: Gods of the Arena," a prequel to "Blood and Sand" debuts in January 2011.
All My Children
ABC
Aiden Turner
HBO
Andy Whitfield
Stephen Amell
Liam McIntyre
Edyta Sliwinska
Spartacus: Blood and Sand
Spartacus: Gods of the Arena
Dante's Cove
The Pacific
Starz
Nellie Andreeva
Jon Flemming
Neighbours
here!