Monday, August 3, 2009 12:59 AM ET | By Venus Stone

---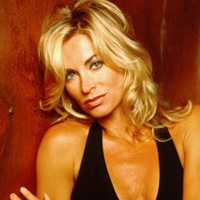 (SoapOperaNetwork.com) — Losing touch with reality….
THIS WEEK ON: THE YOUNG AND THE RESTLESS
Victor's loyal friend Zapato rips 'Kitty' and new one and Mary Jane loses it. Katherine has more shocking news for Jill. As Nikki's wedding approaches, she begins to have cold feet, Tuesday, August 4. Sharon once again gets the hancuffs slapped on her, Friday, August 7.
The Inside Story: Flipping Out
Billy, worried about Ashley, comes to the Newman ranch to check up on her. Before he can get in the door however, Victor shows up and throws nasty jabs at him, ordering him to get out of his house. Billy, shoots back that he's not afraid of him before exiting. Nikki, who is on her way to the ranch, meets up with Ashley at the stables. Agitated and unhinged, Ashley snaps at her for sticking her nose in her business. Nikki leaves and Abby soon shows up and tries to talk to her mother about Victor's reasons for the things he has done. Meanwhile, thanks to Adam's constant gaslighting, Ashley has a serious breakdown after she begins having more hallucinations.
A Closer Look: Obsessed
Jack meets up with Billy to talk over for drinks.Unaware that Mary Jane is closer than he realizes, Jack is oblivious to the fact that she has managed to spike his drink with drugs. Managing to get home, Jack is so drunk that he mistakes Mary Jane, who is seducing him, for Sharon.
What To Watch
The Newman family get some devastating news
Deacon won't leave Amber alone
Adam's scheming could wind up catching up with him
The Young and the Restless News and Headlines
Melody Thomas Scott ("Nikki Newman") will be staying with the show after some serious negotiations. Thomas, who's played in the role since 1979, will take a short scripted leave some time in August
Dianne Miranda appears as "Dr. Nunez Wednesday, August 5
Corbin Bernsen reprises his role as "Father Todd" Wednesday, August 5 and Thursday, August 6
Raya Meddine makes another appearance as "Sabrina" Thursday, August 6 and Friday, August 7
On Friday, August 28, 2009, The Young and the Restless Fan Club Dinner will be held at the Sheraton Universal Hotel in Universal City, California from 6pm to 11pm. Fans will get the chance to get up close and personal with their favorite Genoa City residents. Pictures and autographs will be available along with some very special surprises planned for the evening. Tickets are available on a limited basis only so it is important to order now. The cost per person is $170. which includes dinner, tip, tax, photo autograph book and much more. The deadline is August 21st, 2009. Please visit Young and the Restless Fan Club Dinner for more detailed information.
SON Top 10: Who was the best of the best on "Y&R" during the week of July 27, 2009? You decide! The SON Top 10 is back! Voting begins Friday's at 4:00 PM, EST.
SON ALERTS: WEEK OF AUGUST 10, 2009
Mary Jane pours her soul out to Father Todd
Adam plots a nasty scheme to set Ashley further into a fragile state
A deal is offered up to Sharon
"The Young and the Restless" airs Weekdays on CBS. Weeknights on SOAPnet. Check local listings .
---
Discussion: Y&R PreVUE: Week of August 3 Edition
---