Monday, August 3, 2009 1:18 AM ET |
By Venus Stone
---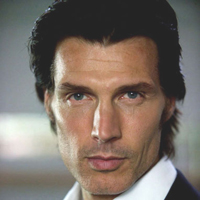 (SoapOperaNetwork.com) — Coming in between…
THIS WEEK ON: AS THE WORLD TURNS
Henry tries his best to keep up with what his mother could be up to, Monday, August 3. The green-eyed monster creeps its way into Noah when he sees Luke flirting. Thursday, August 6 Bob's behavior worries Alison.
The Inside Story: Stirring Things Up

After love-making, Damian tells Meg that he has a job working as a consultant with a pharmaceutical company under his company. As they are talking, he tells Meg that she has to honor a personal commitment; being with him exclusively. He further reminds her that if she's still harboring feelings for Paul, it will only make things difficult between them. Meg tells him she will think it over and immediately runs into Lily. Meg shares the news about the job offer and Lily instantly tries to talk Meg out of takng the job. Angry, Meg snaps that Lily is upset that Damian is not focusing his attentions on her and that she wishes it was her he was sleeping with. The two instantly sling insults at one another over their past. When Holden arrives, Lily quickly tells him that she's more focused on Meg being hurt rather than thinking about Damian. Later on that day Damian asks Luke to join him at the Lakeview for a meeting with a client. When Mr. Rusk comes with his daughter, Sara, Luke immediately assumes that Damian is trying to set the two of them up and throws a fit. Damian assures him that it was mere coincidence and Luke relaxes and has a great time at the meeting. Meanwhile, Noah heads to a private screening with Mason, but promises to meet Luke up at Yo's afterward.
A Closer Look: Second Best

A forlorn Janet continues to compare her life to that of her sister, Teri's. When Jack decides to come up with a sure-fire way to lift up her spirits. He calls Katie and Brad and asks if they can get Janet back on Oakdale Now. Unfortunately Brad tells Jack that they already have their sights set on Teri as their co-host. Brad admits to Jack that Janet should have the job. He decides to go discuss the job with Teri, however, Craig gets to her first and talks her into not quitting her babysitting job with him. Teri tells Brad that she can't take the job at the station. Brad tells Teri that he is glad that she can't do it becasue he wants to offer it to Janet. Teri fully understands and agrees to keep quiet about Janet being his second choice. Later that day Brad gives Janet the news that they want her back on Oakdale Now, however, Janet is slightly thrilled about the offer. Meanwhile, Janet and Liberty get into an argument and she takes off to find Parker. When she gets there, Parker is occupied with helping with the advertising campaign, causing Liberty to leave feeling in the way.
What To Watch
Barbara takes matters into her own hands regarding Paul's behavior
Audrey's boyfriend shows up to stir up trouble
Tom wants Riley gone; immediately
As the World Turns News and Headlines
Scott Winters appears as "Mr. Rusk' on Tuesday, August 4
Sara Hillier appears as "Sara" on Tuesday, August 4
Van Hansis ("Luke Snyder") and Jake Silbermann ("Noah Mayer") will attend their first European fan event in France beginning October 17 at Auditorium Jean-de-La-Fontaine 25, Avenue du General Sarrail. For more information please visit MGC Events for more detailed information.
Austin Peck and Julie Pinson will join other daytime stars as they set sail on Soap Cruise, The Third Voyage on Thursday, January 28 through Monday, February 1, 2010. Please visit Soap Cruise or call 1-888-381-4654 for more detailed information.
SON Top 10: Who was the best of the best on "ATWT" during the week of July 27, 2009? You decide! The SON Top 10 is back! Voting begins Friday's at 4:00 PM, EST.
SON ALERTS: WEEK OF AUGUST 10, 2009
Lily can't keep her lips off of Damian
"As the World Turns" airs Weekdays on CBS. Check local listings.
---
---
You may not reproduce content without written permission from author.

© 2009 Soap Opera Network. All rights reserved.
Discussion: ATWT PreVUE: Week of August 3 Edition
---