Friday, July 17, 2009 1:16 PM PT |
By Errol Lewis
---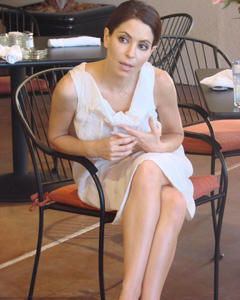 (SoapOperaNetwork.com) — The event was free and you paid for your own food, but it was one of the best events I've ever been to at the "General Hospital" Fan Club Weekend. Which event am I talking about? Lisa LoCicero's.
Brunch with Lisa LoCicero was a wonderful experience. The event wasn't overcrowded as only a limited number of people could attend. Lisa was able to have full-on conversations with her fans in addition to taking photos and signing autographs. She even had time to sit down and eat herself. Which event can you honestly say you've had the same experience?
Soaps in Depth magazine is here covering Lisa's event as well and according to their conversation with Lisa, Jolivia (Johnny and Olivia) fans can expect some hot make out scenes between the duo in the near future. "Wait 'til you see it!"
Jim Warren is also here and despite what many of you think, he's actually a nice guy. He took group shots of Lisa with all of her fans, so look out for that pic to hit the net in a couple of weeks.
After the Jim Warren shoot, Lisa gathered her fans together in a big circle for a Q&A session. She answered questions about her scenes with Brandon Barash (Johnny) and Maurice Benard (Sonny). For reference, she'll be having some nice scenes with Johnny next week, in addition to her upcoming make out session. Lisa noted that often than not the actors will hide their scripts behind a pillow while they are in between takes, so if you see a character sitting down on a couch in an episode, it is likely the actor has their script lying around close to them.
Lisa is a supporter of a potential Claudia/Dante pairing as she's seen the chemistry that Sarah Brown (Claudia) and Dominic Zamprogna (Dante) share. I'd have to agree with Lisa as Claudia will be losing her baby next week after learning that Sonny is really the father. With Ric (Rick Hearst) no longer on the show, it is about time Claudia got a man that is willing to sex her up and play against her strengths and weaknesses without being kept in the dark for a change. Though Dante will have his work cut out for him as Claudia will seek revenge on those who've wronged her. Watch out Port Charles.
Have any of you ever thought that Lisa seems to resemble Sandra Bullock ("The Proposal") and Vanessa Marcil (ex-Brenda, "GH") just a little? Apparently you aren't the only one. Lisa heard from her agent that the show was contemplating having her come in as a Brenda recast, but Lisa made it clear that those were "shoes [I] wasn't willing to fill." As for Sandra, Lisa noted that a classmate of her son's told her that "you look like a lady from a commercial I saw from a movie. You have to marry me."
My thanks goes out to Michelle Bell, Shelley Brown, Angelina Herrera, and Jen Brown at Lisa LoCicero Online, who organized the event and made the experience one to remember.
"General Hospital" airs Weekdays on ABC. Weeknights on SOAPnet. Check local listings.
---
Discussion: Brunch with Lisa LoCicero

---
SOAPnet
ABC
General Hospital
GH
Lisa LoCicero
Olivia