Monday, June 8, 2009 1:02 AM ET |
By Venus Stone

---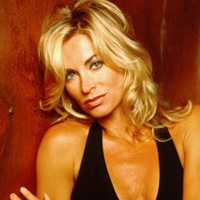 (SoapOperaNetwork.com) — Mind games…
THIS WEEK ON: THE YOUNG AND THE RESTLESS
Sharon and Nick make a decision regarding their relationships. Daniel's involvement in the art scam winds up roping in Victoria on Monday, June 8. On Tuesday, June 9, JT finds himself meeting the Feds at his home.
The Inside Story: Cover Up
After Ashley's tumble down the stairs, Adam quickly gets her up and back into her room, changing her bloody gown for a clean one. Before he can continue cleaning up Nikki shows up and he covers by telling her that Ashley went out to dinner with Jack. Nikki is wary at first but heads out. Once she is gone, Ashley wakes up and begins pointing the finger at Adam for what has happened. Covering his tracks Adam tells Ashley that she's been in bed the whole time and that she must have been having a bad dream. Meanwhile at the Genoa City Athletic Club, Nikki runs into Jack and asks if he is finishing up his dinner with Ashley. Looking puzzled Jack tells her that Ashley and he weren't together, which makes Nikki realize that Adam is hiding something. At the Newman estate, the doctor comes to see Ashley and he tells her that all is fine with the baby, but once alone with Adam, he informs him that Ashley has miscarried. Not wanting Ashley to be told the news, Adam blackmails the doctor to keep quiet. When Adam comes back to check on Ashley, he's stunned when she tells him that she felt the baby kick.
A Closer Look: Wrath of a Woman
After seeing Phyllis and Jack together, Mary Jane seeths that she will pay back everyone that has gotten in her way; adding Phyllis's name on a 'revenge' list along side Victor's and Sharon's. That same day, Mary Jane meets up with Jack and the two have sex. Afterwards as he is leaving he insults her by saying that he had fun. Ticked at being ignored Mary Jane begins to keep tabs on Jack's whereabouts, especially when she notices him talking to Phyllis. Paul, who is still digging into Mary Jane's past catches her stalking Jack and Phyllis. When he starts hounding about her past, she gets angry and decides the best way to keep him away from her is by getting a restraining order against him.
What To Watch
Cane has a reason to be worried when Nina starts digging
Daniel becomes a suspect in murder
Mac says what Billy wants to hear
The Young and the Restless News and Headlines
Monet Stunson, winner of a St. Louis casting call will appear on the show as Sarah, Tuesday, June 9
Dennis Cockrum appears as 'Dr. Donahue', Tuesday, June 9
John Rubinstein appeares as 'Dr. Taylor' Tuesday, June 9Wednesday, June 11
SON ALERTS: WEEK OF JUNE 15, 2009
Nina finds information that sets her suspicions of Cane
Adam needs more Botox to keep up his ruse
The exhumation of Phillip III has a shocking reveal
Mary Jane does what she has to do to keep Paul at bay
Cane calls someone in Australia
"The Young and the Restless" airs Weekdays on CBS. Weeknights on SOAPnet. Check local listings .
---
Discussion: Y&R PreVUE: Week of June 8 Edition
---