Tuesday, June 23, 2009 10:57 PM ET |
By Scotty Gore
---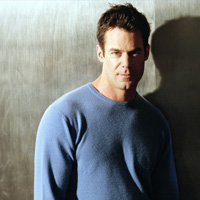 (SoapOperaNetwork.com) — When he's not rubbing elbows with "Desperate Housewives" or enjoying his "One Life to Live," Tuc Watkins turns to the popular website "Funny or Die" for help releasing his comedic talents.
Founded in 2007 by Adam McKay and "Saturday Night Live" alum Will Ferrell, "Funny or Die" has become a highly successful comedy video website, with material from a wide-range of Hollywood celebrities.
"One Life to Live" vet Tuc Watkins (David Vickers) can now be added to the long list of stars, such as Judd Apatow and James Franco, who have posted videos to the website.
"The Sentimentalist," pokes fun at the recent wave of oddball primetime detectives such as "Monk" and "The Mentalist." Watkins' character has a rather difficult time separating his emotions from his work. Co-staring in the video is Brooke Dillman, of "Blue Collar TV," "The Wayne Brady Show," and "Good Morning, Miami" fame. Directed by Jeff Drake, the dialouge was written by Tuc Watkins and Molyneux.
The hilarous video can be viewed here, but be advised that it does contain some adult language. For those of you who just can't get enough of the the actor, click here to revisit the classic "Have a Seat" commerical featuring his David Vickers persona. And don't miss Watkins' return to Llanview next month, when David bonds with his newfound family, the Buchanans.
---
Discussion:
Tuc Watkins Shows His 'Sentimental' Side
---