Thursday, June 11, 2009 8:33 PM ET |
By Scotty Gore
---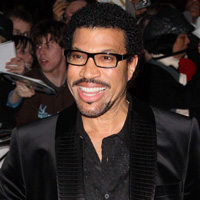 (SoapOperaNetwork.com) — Legendary Motown crooner Lionel Richie becomes the latest in a long list of talented musicians to appear on "One Life to Live."
With a career spanning four decades, the Grammy award-winning Richie has experienced widespread success not only in the United States, but also in Europe and the Middle East. 
The twice-married, 59-year-old singer has three children, including adopted daughter Nicole Richie, who co-starred with hotel heiress Paris Hilton in the Fox (and later E!) reality series "The Simple Life" from 2003-2007.
Richie embarked on his musical endeavor in 1968, as lead singer and saxophonist for the rock-and-roll band The Commordores.  As part of the group, Richie penned a number of their hit songs, including "Brick House," "Truly," "Three Times a Lady," and "Still."  By the late 1970s, he had gone on to writing songs for other musical talents as well, most notably the Kenny Rodgers signature tune "Lady." 
In 1981, Richie topped both the U.S. and U.K. charts with "Endless Love," as part of duet with fellow Motown performer Diana Ross.  Leaving the Commordores in 1982, Ritchie began his solo career.  Releasing his first (self-titled) album later that same year, the song master found newfound fame.  Three singles from the album ("Truly," "You Are," and "My Love") raced to the top of the charts, and sound more than four millions copies.  It was followed up by his second album, "Can't Slow Down" the following year.  Sales from this album more than doubled, and earned Ritchie a pair of Grammy Awards, one of which was for Album of the Year.  Included on the record was the #1 song "All Night Long," which was later turned into a music video. 
On the heels of the success of his first two albums, Richie recorded a string of Top 10 hits throughout the mid '80s, quickly earning the nickname of 'the black Barry Manilow.' In 1985, he won an Oscar for his rendition of "Say You, Say Me," for the hit film "White Nights."  The song also reached #1 on the U.S. charts, where it stayed for a month, thus becoming the top song of 1985 on Billboard's end-of-year Hot 100 chart. 
After teaming up with fellow artist Michael Jackson and a host of other musicians for USA for Africa's charity #1 single "We Are the World," Ritchie released his third album, entitled "Dancing on the Ceiling," in 1986.  After collaborating with the country group Alabama on "Deep River Woman," Richie took a hiatus from his musical career in 1987.
Returning to his passion in the early '90s, Ritchie released a collection of his greatest hits in 1992.  Deciding to stay true to his roots, Richie decided not to change his musical style.  Instead he continued to perform same balance of soul and R&B music that had launched his career.  However, two albums released later in the decade failed to breath new life into his career. 
In recent years, Richie made numerous public and private appearances in both the U.S. and abroad. In 2002, Richie's song "Running with thel Night," was featured in the video game "Grand Theft Auto: Vice City," although it was edited out of subsequent versions of the game.  In 2004, he appeared in an episode of "Canadian Idol."  Later that year, the crooner guest starred on the British program "Top Gear," where the car he was driving lost a wheel after rounding a curve.  In November 2005, Richie teamed up with his old buddy Kenny Rodgers on the show "CMT Crossroads."  Richie also performed in Times Square as the ball dropped to welcome in 2009.  And on May 20th of this year, Richie dropped by "American Idol," and appeared on-air with contestant Danny Gokey on the reality show's season finale. 
Richie's latest album, "Just Go," was released this spring.  On June 12th, he will stop by the "OLTL" studios to record a version of the hit single of the same name from the album.  Look for his scenes to air sometime in late July. 
As noted, Richie becomes the latest in a long-list of big name musicians that have appeared on "One Life to Live" in recent years, joining the likes of Mary J. Blige, Nelly Furtado, Puddle of Mudd, Rachel Yamataga, Snoop Dogg, Timbaland with One Republic, the Pussycat Dolls, and the Plain White T's.  According to "OLTL" Executive Producer Frank Valentini, "I don't want to have somebody on just because, 'Oh, aren't they fun?' I want people with a record to promote. It helps the record label, and it helps us with increased ratings and as milestones in the history of the show that people still talk about."
To learn more about Lionel Richie, clich here to visit his official website.   
"One Life to Live" airs weekdays on ABC. Weeknights on SOAPnet. Check local listings.
---
Discussion:
Lionel Richie Serenades Llanview
---
One Life to Live
Lionel Ritchie