Friday, June 5, 2009 8:00 AM ET |
By Angela Rosa
---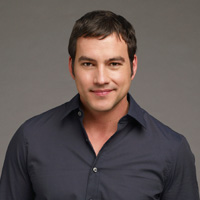 (SoapOperaNetwork.com) — Turning a blind eye.
THIS WEEK ON: GENERAL HOSPITAL
Sam defends Jason to Kristina, who continues to act out. Patrick eases Robin's insecurities and they make love on Tuesday, June 9. Olivia calls Patrick and Robin to the Metro Court after the Mayor's mistress, Brianna, is found unconscious after having supposedly taken a fall while having sex in the shower. Mayor Floyd slips away unnoticed. Tracy leaves Luke with an ultimatum. Matt faces a major crisis in the operating room, while Patrick, Robin and Emma are out having a family picnic. On Thursday, May 11, Alexis pressures Mayor Floyd to increase the city's budget for public schools. Matt lashes out at Patrick and Robin after Brianna dies. Diane informs Patrick and Robin that Brianna Hughes family will be suing Matt for malpractice. Maxie and Spinelli discover what's really going on with Kate on Friday, June 12.
The Inside Story: Child's Play
Claudia and Carly fear the worst after their fall. Carly receives a clean bill of health, but Claudia isn't as lucky and begins to cripple over from severe cramping. Ric's concern for Claudia and the baby doesn't go unnoticed by Sonny. Michael allows himself to share a tender moment with Carly after Jason forces him to go back to the hospital on Monday, June 8. Jax's fears that an unpredictable Michael's presence will hurt Carly's pregnancy mount. Sonny asks Claudia to take a paternity test after a run-in with Ric and a chat with Olivia. Michael directs a violent outburst at Elizabeth. Jason manages to calm Michael down, but later admits to Sonny that he's not sure it's a wise decision for the boy to move back in with Carly. Michael is agonized over his inability to control his rage. Claudia's relief is palpable when Kelly tells her the baby is still alive. Kelly cautions Claudia to avoid stress. The moll rips into Olivia after overhearing her nudging Sonny's suspicions about the baby's paternity. A cold Sonny tells Claudia that she's free to pack her bags and leave if she wants but is later affected when he spies his wife privately voicing her love for her unborn child. Michael's tumultuous homecoming could end in another tragedy when Kristina picks her brother up for a joyride.
A Closer Look: Liar, Liar
Nikolas grows agitated when Alexis continues to insist to him that Rebecca is deceiving him. Meanwhile, Rebecca and Ethan recall how they first met and cooked up their scheme. Nikolas later finds the duo together. Rebecca feigns disbelief when Nikolas confronts her with solid proof that she's Emily's twin sister. Emily's sister turns her attention to neutralizing Jason, with Nikolas already firmly under her spell. Rebecca expertly plays on the hit man's affection for Emily. Monica's heart soars when Nikolas tells her that Rebecca is Emily's sister. Monica warmly welcomes Rebecca into the family fold. Elizabeth is convinced that Rebecca has known her connection to Emily all along. Helena threatens Rebecca after overhearing the scam artist discussing her plans with Ethan discussing their scam. Luke suffers the consequences when he jumps in to protect Rebecca from Helena on Wednesday, June 10.
General Hospital News and Headlines:
GH ALERTS: WEEK OF JUNE 15, 2009
"General Hospital" airs Weekdays on ABC. Weeknights on SOAPnet. Check local listings.
---
Discussion:
---