Friday, June 5, 2009 8:00 AM ET |
By Angela Rosa
---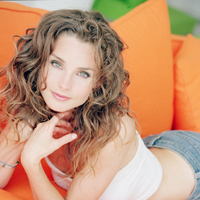 (SoapOperaNetwork.com) — Nothing more than feelings.
THIS WEEK ON: ALL MY CHILDREN
Adam promises Annie that he'll do everything in his power to protect her. Brot rips into Frankie for pushing Randi away on Monday, June 8. Jake proposes to Amanda. Colby refuses to forgive Adam for his deception and moves out of the mansion. Annie shows Aidan the door after he clashes with Adam over her well-being. Ryan accuses Aidan of just being jealous of Adam and Annie's relationship after the Brit suddenly asserts to him that Annie is still a certified lunatic on Wednesday, June 10. JR tells Erica about Adam's growing interest in Annie. North issues Liza an ultimatum. Aidan and Erica realize they share a similar goal. Erica confronts Annie. Aidan arranges a secret meeting between Annie and Emma on Friday, June 12.
The Inside Story: Army of One (or Two)
JR has his hands full with Marissa after he accuses her father of murder. Marissa refuses to turn her back on David and urges him to stay in town and fight if he's innocent. David faces the consequences when he finds himself unable to refuse his daughter's request. Jesse picks David up for questioning. Hayward accepts Liza's offer of help after realizing they share more in common than he thought. Krystal worries about Marissa's growing closeness to David. Jesse confronts David with proof of his proximity to the Chandler terrace on the night of the murder. David cops to being in the Chandler tunnels on the night of the murder and admits that Kendall tripped over him while he was hiding in the garden after he head a gunshot go off. David refutes Jesse's rendition of what really happened that night and places Liza over a dead Stuart's body. Freedom comes at a price when David refuses to keep the peace at Jake and Amanda's impromptu wedding on Thursday, June 11. Tad, a newly ordained minister (circa the internet), marries Jake and Amanda in front of David after knocking him out, tying him up and gagging him. A horrified Marissa comes to David's aid. A lethal David accuses Liza of taking his case with every intention of purposely losing it. Jake assures an anxious Liza that their plan is still a go. Amanda and Jake's honeymoon is cut short when Amanda goes into labor. Tad grows suspicious of Liza. Marissa urges David to not go after Amanda's baby. Emotions run high after Amanda gives birth to her and David's son.
A Closer Look: Push and Pull
Zach's Q&A's with Liza and Adam leads him to level a serious accusation at David. Ryan also becomes convinced of the doctor's guilt after talking to Annie, and later shares his theory with Zach and Kendall. Kendall though remains unsure if the person she tripped over on the night of the murder was indeed David. Ryan and Zach confront North with the new evidence against David, but the D.A. adamantly refuses to stop pursuing Kendall as his prime suspect. On Tuesday, June 9, good news about Ian sends Kendall into Zach's arms which leaves Ryan feeling left out in the cold. Zach promises Kendall that he won't let her be railroaded to prison as they wait out Ian's surgery. Kendall and Zach end up sharing a kiss after getting more good news about Ian. Zach agrees to keep Liza's secret after she swears she'll never say anything to incriminate Kendall. Meanwhile, Kendall and Ryan share an honest talk where they both admit that Zach and Greenlee, respectively, are still very much in their hearts. Kendall is affected by Zach's vehement objection to the idea of her pleading guilty to get a lighter sentence. Kendall apologizes to Zach for having hurt him by turning to Ryan.
All My Children News and Headlines:
AMC ALERTS: WEEK OF JUNE 15, 2009
"All My Children" airs Weekdays on ABC. Weeknights on SOAPnet. Check local listings.
---