Thursday, June 4, 2009 11:24 PM ET |
By Errol Lewis
---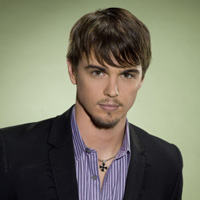 (SoapOperaNetwork.com) — Actor Darin Brooks is headed out of Salem when he takes his "Days of our Lives" character, Max Brady, to London after Max thinks over Chelsea's (Rachel Melvin) idea of him moving in with her seriously.
In a recent interview with Soap Opera Digest, Brooks revealed that his time on "DAYS" was a wonderful learning experience. "You can't pay for a class to teach you what I learned there," he says.
Brooks is leaving the NBC drama to take on the role of Alex, a talented quarterback content with riding on the bench, while enjoying college parties, in the Spike TV comedy series "Blue Mountain State."
Produced by Varsity Pictures' Brian Robbins ("Norbit," "Varsity Blues," "Smallville") and Sharla Sumpter-Bridgett and Lionsgate, the comedy series is scheduled to premiere this summer.
"'Blue Mountain State' contains four key ingredients to being a guy…football, partying, women and hazing," said Kevin Kay, president, Spike TV. "We're thrilled to be working with Brian Robbins, Varsity Pictures and Lionsgate on this outrageous comedy that combines college football with 'Animal House.'  And we think it's a perfect fit for Spike's young, male audience."
"Mountain" is a scripted series surrounding three college freshman who join the Midwestern college football team of Blue Mountain State University, and must adapt to college life while juggling football, girls, classes and hazing rituals. Brooks will play Alex,  The pilot was written by Chris Romano and Eric Falconer ("The Sarah Silverman Program"). Romano will play Sammy, Alex's best friend,  who aspires to be the school's mascot.
Brooks' last appearance on "Days of our Lives" is now scheduled for Tuesday, June 16  – previously it was reported to be Thursday, June 11).
"Days of our Lives" airs Weekdays on NBC. Weeknights on SOAPnet. Check local listings.
---
Discussion: Brooks' 'DAYS' End for 'State' College
---
Days of our Lives
Darin Brooks
Blue Mountain State