Sunday, April 5, 2009 1:15 AM ET |
By Venus Stone
---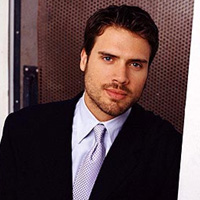 (SoapOperaNetwork.com) — So this is good-bye…
THIS WEEK ON: THE YOUNG AND THE RESTLESS
Kevin and Amber get into more trouble when the cuffs go on them Wednesday, April 8. Karen may have some decisions to make regarding her marriage when she learns more about what's been going on between Neil and Tyra, Thursday, April 9.
The Inside Story: Walking Out
After his heated confrontation with Phyllis, Nick finds himself at Sharon's suite at the G.C.A.C. When she opens the door she breaks down in his arms but soon pulls herself together and requests that he goes away. Nick refuses, telling her he's staying right where he is. Sharon soon tells him that if he wants to really help her he can do whatever he can to keep Phyllis away from her. In the meantime, Phyllis, unable to accept Nick's constant concern for his ex, dons a disguise to snoop. Nick's coming out of Sharon's suite when he spots Phyllis lurking about ready for another showdown with Sharon. Phyllis becomes upset and tells Nick that everytime Sharon calls he's right there and she wants it to stop. Nick, fed up with Phyllis's accusations whisks her back to their house where they have it out. Things go from bad to worse, however, when Phyllis trashes Sharon's character, which causes Nick to pack his bags. Upset with his decision to walk away, Phyllis questions if their whole marriage to one another was a lie but Nick's silence speaks volumes. Meanwhile, Jack wants another chance with Sharon but she tells him that there is no new start for them since she's signed off on the divorce papers. A saddened Jack heads back downstairs to the bar and spots Nick. Jack expresses his concerns by telling Nick that if he cares for both Sharon and Phyllis, he'll need to decide on doing the right thing by both of them. Later that evening, Sharon's upset that Noah has missed his curfew and instantly heads over to find Nick at the tack house. When she arrives though she is met by Phyllis who lets her know that Nick has moved out of the house. Phyllis continues by telling Sharon that the more she runs to Nick for help the more she's damaging their marriage and pulling him away from his family. Their conversation is interrupted when Noah shows up and before Sharon can talk to him about his curfew, he lashes out that he's not interested in another discussion. After Sharon has left, Nick returns home with hopes of possibly working things out.
A Closer Look: More Than He Can Handle

Billy can't bellieve his eyes when he comes face-to-face with Mac at his wedding to Chloe. Things instantly get tense when Katherine, emerging from her fight with Jill, tells everyone that the DNA results have come in. She explains that while Brock is definitely her son, Jill on the other hand is not her daughter. The news sends everyone in a tailspin, including Mac and Billy, who both realize that this news shows that they are not related after all. Sensing how uncomfortable Chloe is about Mac's arrival, Esther tells her about Billy's relationship with her. Billy later pays Mac a visit and Chloe seeing the two of them together, is not pleased. After he and Mac have parted ways, Billy passes his phone number along to Brock to give to her, unaware that Mac has decided to stay in town.
What To Watch
Cane realizes his harsh words toward Katherine
Mac meets Jill's other son
Victor pulls off another scheme without a hitch
The Young and the Restless News and Headlines
Karen Hensel returns to the show as Sharon's mother Doris on Friday, April 10
Scott L. Scwartz appears as Amos Slaughter, a bounty hunter looking for Kevin and Amber on April 8

Maria Arena Bell, Christian Jules LeBlanc and Jeanne Cooper are discussed in the current issue of Soap Opera Digest in 'Behind the Scenes', where Cooper and LeBlanc put together a surprise birthday party for the headwriter that she soon won't forget.
As previously mentioned on SON, Tom Casiello has joined the writing team of Y&R. His first scenes begin airing April 20 and April 28, May 12 and May 19.
Judith Chapman, who plays scheming Gloria Fisher Abbott Bardwell, is also featured in the current issue of Soap Opera Digest in a segment called 'Look What We Dug Up' featuring some of her memorable photo shoots.
Viewers who watch the 'Y&R' week-end marathon on Saturday nights on SOAPnet will see a time change beginning April 11, moving it from the 7PM EST/PT slot to 4PM EST/PT. Check your local listings for this time slot change.
Fans can 'get restless' by participating in the Get Restless in Jamaica Sweepstakes. A fan could win their chance of a lifetime to have a 4 day/3 night vacation. Those interested can visit Get Restless in Jamaica
SON Top 10: Who was the best of the best on "Y&R" during the week of March 30 – April 3, 2009? You decide! The SON Top 10 is back! Voting begins Friday's at 4:00 PM, EST.
SON ALERTS: WEEK OF APRIL 13, 2009
Jill and Katherine go another round.
Phyllis plots yet again against Sharon.
Sharon finds herself getting arrested.
"The Young and the Restless" airs Weekdays on CBS. Weeknights on SOAPnet. Check local listings .
---
You may not reproduce content without written permission from author.

© 2009 Soap Opera Network. All rights reserved.
Discussion: Y&R PreVUE: Week of April 6 Edition
---