Sunday, April 5, 2009 7:41 PM ET |
By Venus Stone
---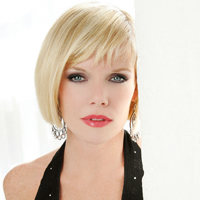 (SoapOperaNetwork.com) — Sober up…
THIS WEEK ON: AS THE WORLD TURNS
Luke won't give up until he finds out what Damien is up to. Damien on the other hand catches Lily up to something, Thursday, April 9. Lucy finds another way to give Dusty what he wants. Luke and Noah's new friends pull a cruel prank at Damien's expense.
The Inside Story: Bottoms Up

Janet, wanting to get a break from all the troubles that have been bothering them, suggests Jack and she go to Metro. Jack, not wanting to deal with anything associated with Carly hesitates. Across town Carly is getting ready for her date with Craig but gets cold feet when Sage expresses how she wishes she would just stay home with her. When Craig arrives Carly tells him that she thinks they should call the date off but Craig insists they go out and takes her to Yo's. When they arrive they run iinto Jack and Janet. Janet quickly offers the olive branch by buying drinks to thank Craig for all his help with Liberty and Parker, which peeves Jack. While together Jack realizes that Carly is drunk but Craig comes to her rescue. After their night with Jack and Janet, Craig takes Carly back home where he and she have more drinks together and later make love. Back at the farmhouse Janet expresses her concerns about Carly's drinking. In the meantime, Parker is upset that Liberty won't return home to him and takes his frustrations out on Carly. Craig advises Parker to be there for Liberty if he really loves her. Liberty on the other hand is sharing her doubts about marrying Parker with Jack and Janet. The two parents insist that she tells Parker how she feels but when she does go to talk to him, Parker tells her how sorry he is for hurting her. Craig, wanting to continue to look good in the eyes of the kids and in Carly's, decides to give Liberty a chance at an internship in New York. When Craig shares the news Liberty is instantly excited but Parker doesn't like the idea at all. Wanting his plan to work, Craig goes to Janet and tells her about the internship and asks if he can have her permission to give Liberty the opportunity. While Jack is surprisingly agreeing to the internship, Janet on the other hand isn't ready for her daughter to leave Oakdale. Liberty sonn receives a call saying they want her to start the internship the following day. Craig and Carly agree to take her since they have business to do in New York as well. Parker is upset that he is unable to go but Craig and Carly convince him that since it's only for one night Liberty going without him will be fine. Meanwhile Janet's upset that Jack suddenly took Craig's side to have Liberty in New York for an internshhip. Back at Carly's place, Craig and Carly break out the drinks to celebrate.
A Closer Look: Bad Influence
When Luke and Noah learn that the account for the foundation has been frozen Luke immediately points the finger at Damien, accusing him of starting drama to get his attention. Noah, however, isn't sure that he is the one that did it. When they inform Lily about the matter, she goes over to confront Damien at the hospital but finds that he isn't in his room. When Lily doesn't get back in contact with Luke he worries about where she could be. He soon finds the two of them together in his hotel room. Lily quickly explains that a stitch from his wound came loose and she was helping him, but Luke is still leery of his father. Back at the office, Noah is trying his best to find out where the funds might have gone. Zac soon arrives offering his help but when the computer crashes he stuns Noah by giving him a spontaneous kiss. Pushing him away Noah asks why he did that. Zac quickly apologizes and leaves before Luke arrives. Once alone, Noah tells Luke what has happened and Luke gets upset. He soon calms down and realizes that Noah isn't going to let anyone come in between them. As the two are talking Luke lets Noah know that he just doesn't trust his father and wants to make sure his mother doesn't fall for his lies. Meanwhile Zac and Zoe learn that Damien is Luke's father and begin to badmouth him.
What To Watch
Paul's latest stunt to get what he wants pays off
Meg wants nothing to do with Dusty
Henry feels left out of everything regarding the baby
As the World Turns News and Headlines
Word is that Cady McClain will be returning back to Oakdale as Rosanna Cabot. Cabot's airdate has been slated for May 20
Chauntee Schuylere, who plays 'Bonnie McKeechnie' originally opted to depart from the role after relocating to the West Coast with her husband. News is that she will be staying right where she is and commute back and forth to shoot her scenes.
Ewa da Cruz ('Vienna'), Trent Dawson ('Henry') and Billy Magnussen ('Casey') will be attending the 11th Annual Southwest Florida SoapFest, an event that returns the best of daytime television's soap opera stars to Marco Island, May 2 and May 3 to raise money for local children's charities. Those interested in ticket and sponsorship information go online to SopaFest or call 239-394-4559
'As the World Turns' fans have an opportunity to bring out their charitable side in them by joining Kelley Menighan Hensley, Jon Hensley, Michael Park and Martha Byrne at the Inaugural Angels for Hope Gala Friday. May 29. The event begins from 7 PM to 11 PM at the Estate at Florentine Gardens, located at 97 Rivervale Road in River Vale, NJ. Angels of Hope is the first major fundraiser event that is held on behalf of St. Jude Children's Research Hospital in Bergen County. Those in attendence will have the opportunity to enjoy a night of fine dining, cocktails, music and dancing along with a silent auction. Tickets are $200.00 each with limited seating. Please visit Angels for Hope or call (212) 239-3239 to reserve.
'As the World Turns' fans will want to take advantage of seeing some of their favorite stars when they host the ATWT Annual Fan Club Luncheon 2009 on April 18 from 12:00 Noon until 4:00 PM at the Marriot Marquis located at 1535 Broadway, New York, NY. Those interested are required to pay a $25.00 non-refundable deposit per person in order to reserve seating. Those who are current fan club members pay $125 and non-fan club members pay $135 For more information regarding the event, please visit ATWT Fan Club
SON Top 10: Who was the best of the best on "ATWT" during the week of March 30 – April 3, 2009? You decide! The SON Top 10 is back! Voting begins Friday's at 4:00 PM, EST.
SON ALERTS: WEEK OF APRIL 6, 2009
Paul issues out a warning to Meg
Carly has some serious decisions to make regarding Craig
Bad news hits Lily and Holden
"As the World Turns" airs Weekdays on CBS. Check local listings.
---
---
You may not reproduce content without written permission from author.

© 2009 Soap Opera Network. All rights reserved.
Discussion: ATWT PreVUE: Week of April 6 Edition
---