Monday, March 9, 2009 12:54 AM ET |
By Venus Stone
---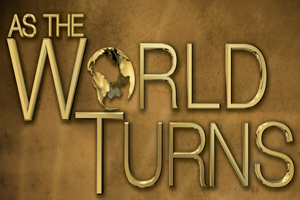 (SoapOperaNetwork.com) — Back together again…for now
THIS WEEK ON: AS THE WORLD TURNS
Parker, fed up with Jack running his life, decides to leave Oakdale with Liberty in tow. Carly gives Craig a lecture on his behavior toward Lucy. Brian's return to Oakdale does not sit well with Lily.
The Inside Story: Trying Again


Casey finds Matt and apologizes for doubting his innocence. Matt accepts but tells Casey that Alison and he don't deserve to be together. When Matt finds Alison he asks if she would like to go away with him and she willing accepts. As she is getting everything ready for her time with Matt, she hears Emily talking to Jade about giving her the cash for sleeping with Casey. Alison not only confronts Emily for her betrayal but she goes to Casey's to let him know. She finds Jade there and slaps her.Casey immediately tells Jade she needs to leave but when she becomes insistent, he lets her know that their time together was nothing more than a one time thing and that all he sees her as is a friend. When she leaves Alison tells him everything about Emily's scheme to get Jade to break them up. After doing some serious talking about their relationship, Casey and Alison agree to try again. A disgusted Casey goes to Emily and tells her that if she cares for Alison at all she will put asside her hatred and give her sister her blessing for them to be together. Emily at first balks but then agrees. Meanwhile Alison calls Matt and tells him that she can't be with him.
A Closer Look: Putting on the Breaks
Brad and Katie receive a call from Vienna letting them know that it is now time for the artificial insemination. Brad and Katie meet up with Henry and Vienna at the hospital, but while everyone else is getting excited over the procedure, Henry starts to worry and have second thoughts. Although Katie admits she didn't want to go through such measures to have a baby, Brad reassures her that everything will work out for the best. Henry, who is still hesitant,'accidentally' knocks the syringe from the doctor's hand. As the procedure has happened Vienna tells Brad and Katie she would like to be the one to name the baby as long as she is carrying it. While everyone is sharing their happiness of Brad and Katie possibly becoming parents, Henry on the other hand, is very reluctant about the whole thing.
What To Watch
Parker overhears some information that could help him get what he wants
Luke and Noah face some harsh objections
Lucy has a secretive phone conversation
As the World Turns News and Headlines
Nicholas Galbraith and Melinda Sullivan will come on the show as Zac and Zoe Finn on April 1 to help Luke with the foundation; but could they actually stir up some trouble?
Mo Kanekoa portrays Cesar, a man that has some business with Lucy on Monday, March 16
Laurence Lau returns as Brian Wheatley. who has some unfinished business with Lucinda
Allen McCullough stirs up trouble for Luke and Noah Monday, March 16 as Mr. Reese who is a landlord of an apartment that the two want to reside in
Patrick McNulty plays Mr. Shink, a lawyer that give Parker a helping hand on Wednesday, March 11
Word is that Cady McClain will be returning back to Oakdale as Rosanna Cabot. Cabot's airdate has been slated for May 20
'As the World Turns' fans have an opportunity to bring out their charitable side in them by joining Kelley Menighan Hensley, Jon Hensley, Michael Park and Martha Byrne at the Inaugural Angels for Hope Gala Friday. May 29. The event begins from 7 PM to 11 PM at the Estate at Florentine Gardens, located at 97 Rivervale Road in River Vale, NJ. Angels of Hope is the first major fundraiser event that is held on behalf of St. Jude Children's Research Hospital in Bergen County. Those in attendence will have the opportunity to enjoy a night of fine dining, cocktails, music and dancing along with a silent auction. Tickets are $200.00 each with limited seating. Please visit Angels for Hope or call (212) 239-3239 to reserve.
'As the World Turns' fans will want to take advantage of seeing some of their favorite stars when they host the ATWT Annual Fan Club Luncheon 2009 on April 18 from 12:00 Noon until 4:00 PM at the Marriot Marquis located at 1535 Broadway, New York, NY. Those interested are required to pay a $25.00 non-refundable deposit per person in order to reserve seating. Those who are current fan club members pay $125 and non-fan club members pay $135 For more information regarding the event, please visit ATWT Fan Club
SON Top 10: Who was the best of the best on "ATWT" during the week of March 2 – 7, 2009? You decide! The SON Top 10 is back! Voting begins Friday's at 4:00 PM, EST.
SON ALERTS: WEEK OF MARCH 16, 2009
Luke gets into a car accident.
Vienna makes Henry promise to keep something quiet.
Paul sets sights to get what he wants.
"As the World Turns" airs Weekdays on CBS. Check local listings.
---
---
You may not reproduce content without written permission from author.

© 2009 Soap Opera Network. All rights reserved.
Discussion: ATWT PreVUE: Week of March 9 Edition
---