Wednesday, March 4, 2009 5:00 PM EST |
By Angela Rosa
---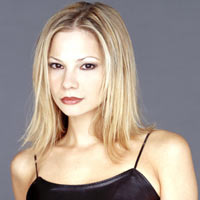 (SoapOperaNetwork.com) — Misery loves company.
THIS WEEK ON: ALL MY CHILDREN
Aidan and Annie ignore Dr. Burke's (John Behlmann) reservations and continue to grow closer on Monday, March 9. Brot and Taylor reflect on the anniversary of his accident. Brot fights his fears and heroically rescues an unconscious Opal as Cortlandt Manor begins to go down in flames. Tad expresses his gratitude to Taylor for saving Kathy's life. Aidan and Annie make love. On Friday, March 13, Opal becomes upset when she learns she's broke; Annie becomes upset when hew new friend Tori (Lauren Singerman) brings up Ryan; and Randi is not a happy camper when she learns the secret Frankie's been keeping from her.
The Inside Story: Desperate Moves
David moves to gain custody of Little Adam. Desperate to prevent that from happening, Adam and Erica decide to leave the country with Little Adam. The latest development leaves David livid but he nonetheless presents JR with legal paper suing him for sole custody of Little Adam. Amanda tells JR she'll testify that David paid her to make him fall off the wagon when the custody battle begins. Unfortunately for Ms. Dillon, Krystal, fearing for her grandson's safety, gives David the ultimate leverage to keep Amanda in line. David confronts Amanda with the knowledge that he's her baby's father. Krystal knocks Tad's lights out when he absolutely refuses to let her go on being under David's spell. Amanda agrees to the terms David gives for his silence. A cruel David double cross his baby momma and reveals to JR the true paternity of the baby on Thursday, March 12. Angie and Jesse fear David's next move. Jake promises Amanda that he'll protect her and the baby from David. JR rips into Amanda for her betrayals.
A Closer Look: Tunnel Vision
Zach accuses Ryan and Kendall of deliberately setting it up so that he'd find them in an intimate setting and storms out. Erica chastises Kendall for confiding in Ryan instead of her husband. Ryan kicks Erica out. Kendall arrives at the hospital just as Zach is carrying Reese out in his arms. Ryan's wheels begin to spin when Jack informs him that he's now Kendall's partner at Fusion. Ryan assures Kendall that they'll get Fusion back on its feet. Thanks to an unwitting Pete, Ryan gets his hands on some of Cambias' financial documents. Zach accuses Ryan of using Fusion to get his hands on his wife. On Tuesday, March 10, Kendall tells Zach that he needs to do what he can to help Reese after seeing how helpless the architect has been rendered. Zach doesn't understand how Kendall can feel compassion for Reese while still punishing him and walks out on her. Kendall asks Ryan to swear that he's not using her to go after Zach. Aidan agrees to help Zach neutralize Ryan under the condition that Zach keeps Annie out of prison. Zach decides to move into the casino after Kendall refuses to cut Ryan out of her life. Kendall points out to Zach that she has never stopped loving him but Zach believes she's never stopped loving Ryan either. Kendall admits to Ryan that he's part of the problems she and Zach are having. The tension remains thick when Kendall calls Zach over to the house under the guise of needing help with the boys. Ryan continues to plot against Zach while lying to Kendall about his true intentions. Aidan's hones in on Pete as he begins doing Zach's dirty work. Zach reads Reese the letter Bianca sent her and the moment soon becomes charged between the pair.
All My Children News and Headlines:
SON ALERTS: WEEK OF MARCH 16, 2009
Monday: Aidan strikes a deal with Pete. Kendall accuses Zach of having an affair with Reese. Amanda concocts a wild scheme to protect her baby from David.
Tuesday: Kendall questions Zach about Reese. Ryan and Kendall find comfort with each other. Aidan makes a curious discovery.
Wednesday: Kendall admits she still has feelings for Ryan. Zach stays by Reese's side after her surgery. JR wants nothing to do with Amanda.
Thursday: Zach wonders what secrets Aidan might be keeping. Ryan loses it when he thinks he's betrayed Greenlee's memory. David is up to his old tricks.
Friday: Zach tells Kendall what Ryan is really up to. Reese realizes what she truly wants. Colby plays into David's hands.
"All My Children" airs Weekdays on ABC. Weeknights on SOAPnet. Check local listings.
---