Tuesday, July 21, 2009 12:28 AM ET |
By Scotty Gore
---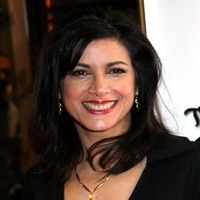 (SoapOperaNetwork.com) — "One Life to Live's" new Carlotta Vega breaks her silence and speaks publicly for the first time since replacing Patricia Mauceri in the suddenly controversial supporting role, sitting down with TV Guide's Michael Logan for an exclusive interview concerning the daytime drama's upcoming gay storyline.
Less than one month after Patricia Mauceri was unceremoniously fired from "One Life" after portraying Carlotta Vega since 1995, new details have emerged involving the actress's apparent refusal to play out her scenes as scripted. According to Logan, Mauceri "refused to perform a story twist in which her character mistakenly thinks her son Cristian (David Fumero) is gay and reacts in a positive and supportive manner."
Deciding it would be 'out-of-character' for Carlotta, a rather devout Catholic mother, to act in such a manner, Mauceri rewrote her character's scenes as she thought they should play out, and submitted them to "OLTL" Executive Producer Frank Valentini. Demanding that the actress stick to the original script, however, both sides refused to budge, and the EP showed the veteran soap star the door.
Finding himself in a bind, Valentini placed an emergency call to Saundra Santiago, who previously appeared in Llanview during the summer of 2004 as Isabella Santi. The call came almost too late. Santiago tells TVGuide,"My problem was that, when I got the call from 'OLTL,' I was out for the evening with friends and had just finished a vodka gimlet and was about to have another. That was at 9pm. At 10pm the show sent me 20 pages to memorize and I had to be on the set the next morning at 6am. But somehow I pulled it off. Either I'm a real pro or just nuts." Unlike her predecessor, Santiago explains that she"had absolutely no problem with the content of the scenes."
When asked why she took so long to speak publicily on the emergency recast, the actress explains that "I've been avoiding talking about it because I thought anything I say will offend somebody. It's such a touchy subject. But I was very excited to go back to 'OLTL'—I've loved that show since way, way back when Tommy Lee Jones was on it!"
Reading between the lines, it appears that "OLTL" may be considering phasing out the character of Carlotta in the near future, given that thus far Santiago was only hired for two episodes. The actress reveals to Logan that her scenes are scheduled to air on September 3rd and 4th, and that "I hope they write more for Carlotta because I'd love to take over the role and do something new with it. Do my thing with it."
"I think it's a really good storyline," Santiago concludes. "The show is just trying to make viewers aware of [gay people]. I love Patricia and have known her for years. She's a wonderful actress. I'm sure she had her reasons. Whatever. I don't get involved in that aspect. I'm just so glad it worked out. And it's a good thing I hadn't moved on to that next vodka gimlet—that's all I can say!"
Click here to read Michael Logan's full interview with "OLTL's" new Carlotta, Saundra Santiago.
On a related note, look for the much anticipated kiss between former gay lovers Oliver Fish (Scott Evans) and Kyle Lewis (Brett Claywell) to finally happen on Thursday, August 6th, as someone watches from a distance.
In addition to her previous stint in Llanview in 2004, Santiago has also appeared on "Guiding Light" as Carmen Santos (1999-2002) and as Jean Cusamano on the hit HBO series "The Sopranos" (1999-2007).
"One Life to Live" airs Weekdays on ABC. Weeknights on SOAPnet. Check local listings.
---
Discussion: Saundra Santiago Discusses Her New 'Life' as Carlotta Vega
---
One Life to Live
SOAPnet
ABC
OLTL
Patricia Mauceri
Saundra Santiago
Carlotta Vega
Gay