Wednesday, February 4, 2009 4:59 PM EST | By Angela Rosa
---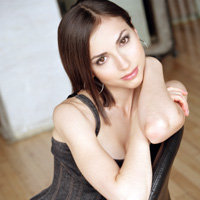 (SoapOperaNetwork.com) — Now you seem them, now you don't.
"All My Children" just continues to break new ground. Immediately following daytime television's first same-sex marriage between Bianca Montgomery (Eden Riegel) and Reese Williams (Tamara Braun), you may get a front seat to daytime television's first same-sex marriage annulment. Is the ABC drama also aiming to beat the record for shortest daytime marriage on record?
Eden Riegel exits from the role of Bianca Montgomery on Tuesday, February 24. Riegel returned to "AMC" on October 17, 2008 with a four-month contract. This will be Riegel's eighth departure from the show. The Emmy-winning actress started in the role of Erica Kane's (Susan Lucci) youngest child in the summer of 2000.
An embittered Reese will stick around Pine Valley for a while longer.
Dr. Sinclair's misdeeds will come to light in the not too distant future. McKenzie Westmore's bitter and vengeful character seems to vanish after getting a taste of her own medicine on Thursday, February 19. Is the not so nice doctor gone for good? Possibly; although the latest issue of ABC Soaps In Depth reports that at press time the "Passions" alum was very close to extending her recurring stint with the show. The 31-year old actress began airing in the role of Annie Lavery's (Melissa Claire Egan) psychiatrist on December 12, 2008.
"All My Children" air Weekdays on ABC. Weeknights on SOAPnet. Check local listings.
---
All My Children
Eden Riegel
McKenzie Westmore