Friday, February 6, 2009 11:28 PM ET |
By Venus Stone
---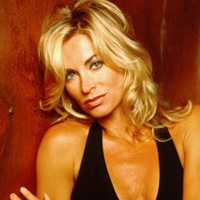 (SoapOperaNetwork.com) — Bitter farewell…
THIS WEEK ON: THE YOUNG AND THE RESTLESS
Jill could be the thorn in a smitten Esther's side on Wednesday, February 11, when Roger tries to convince Esther to run away and elope with him. Sharon and Nick discuss Phyllis' 'sudden' change in attitude.
The Inside Story: A Chaotic Farewell
Colleen and Abby are still dealing with the ramifications of learning that their father, Brad has died after saving Noah's life. Abby lashes out at Eden, placing the blame on her for coaxing Noah into going ice skating on the frozen but fragile ice. Billy, with Lily's help tries his best to be there for both ladies. Brad's daughters, however, aren't the only ones that are feeling the effects of Brad's death. Sharon breaks down, remembering her last words with Brad that fateful night. Noah is also wrecked with guilt because his actions with Eden led to Brad's un-timely demise.Traci, hearing about Brad's death, returns home to be there to say her farewells, as well as being there for Colleen. Things however, take a nasty turn when all attend the funeral. When Victor approaches Abby on wanting to give her money to use towards a charity in Brad's name, Colleen overhearing the conversation flips out and lashes out in front of everyone about how nasty and cold he's always been toward Brad. Witnessing the outburst Ashley and Victoria both take Victor aside and tell him for the sake of Colleen and everyone else who are their to pay their repects, he should depart.
A Closer Look: Change in Command
Victor sets Jack's radar off when Jack spots Victor being chummy with Billy. Later that day, Jill stuns everyone when she names Billy as the new CEO of Jabot Cosmetics, which Cane can't believe. Ashley suddenly has some reservations when she discusses with Jack and Billy on their roles at Jabot. Back at Newman Enterprises, Victor talks to a mystery woman and informs her that he has some very intriguing plans for her.
What To Watch
Kay is granted to take a DNA test
Phyllis feels the pangs of guilt at Brad's grave
Nick finds out the real cause of Noah's accident
The Young and the Restless News and Headlines
James Michael Gregary and David Leisure return as Clint and Roger, February 12 to continue their plan to ruin Katherine
Beth Maitland, who returned as Traci Abbott Carlton Connelly on February 6 will stick around for her daughter, Colleen February 9 and 10
Karen Hensel who plays Sharon's mom Doris Collins, will appear February 9, when Sharon decides to head back home to pay visit
Ted Mattison plays a park ranger that keeps Nick and Sharon from heading out in the storm, Monday, February 2
Stacy Haiduk is slated to portray a possible love interest for Jack Abbott (Peter Bergman)
Marcia Wallace, who voices the character Miss Krabappel on 'The Simpsons' will come to Genoa City to possibly stir up mischief on February 16
Joshua Morrow and Michelle Stafford, who play recently estranged couple Nick and Phyllis Newman are featured in the current issue of Soap Opera Digest
Christian J. LeBlanc (Michael Baldwin) along with other hot daytime hunks will meet fans at the Soap Stars, Hunks of Daytime TV on Saturday, February 14 at the Silver Springs Nature Park, located at 5656 E. Silver Springs Boulevard, Silver Springs, FL. Those interested can visit Silver Springs or call call (352) 236-2121
Fans can 'get restless' by participating in the Get Restless in Jamaica Sweepstakes. A fan could win their chance of a lifetime to have a 4 day/3 night vacation. Those interested can visit Get Restless in Jamaica
Don Diamont (Brad), Christian J. LeBlanc (Michael), Daniel Goddard (Cane) and Michelle Stafford (Phyllis) will be participating with other soap stars in Soap Opera Mania–On Tour. The event will kick-off this Saturday, February 7 in Macon, Georgia. Please visit Soap Opera Mania or call (866) 364-0330 to find out which city and state these stars will be appearing.
SON Top 10: Who was the best of the best on "Y&R" during the week of February 2 – 6, 2009? You decide! The SON Top 10 is back! Voting begins Friday's at 4:00 PM, EST.
SON ALERTS: WEEK OF FEBRUARY 16, 2009
Sharon continues to unravel.
Trouble continues to swirl around Katherine.
Karen witness some serious liplocking.
Sharon and Billy share company.
"The Young and the Restless" airs Weekdays on CBS. Weeknights on SOAPnet. Check local listings .
---
You may not reproduce content without written permission from author.

© 2009 Soap Opera Network. All rights reserved.
Discussion: Y&R PreVUE: Week of February 9 Edition
---