Wednesday, February 4, 2009 5:00 PM EST |
By Angela Rosa
---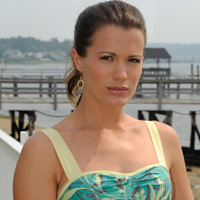 (SoapOperaNetwork.com) — Women on the edge.
THIS WEEK ON: ALL MY CHILDREN
An insecure Brot avoids getting intimate with Taylor. Tad and Krystal agree that he'll keep the house and she'll hold on to the Comeback property. Krystal tells Tad why she didn't rat him out to David. News of Rebecca's death spreads at Jesse's surprise party on Tuesday, February 10. Jesse helps Natalia mourn her mother. Angie and Krystal make up. David gives Krystal a ring. JR and Amanda continue to grow closer. On Friday, February 13, Tad urges his step-son not to rush into marriage. Amanda assures Frankie that she didn't fill JR in on his malpractice.
The Inside Story: Alliances
Ryan is surprised to find "Mr. Stone" at Oak Haven on Monday, February 9. Aidan and Ryan realize that they share the same concerns. Ryan manages to hide before Sinclair finds him with Aidan. Aidan and Ryan agree to work together to get the goods on Sinclair and to get Annie the help she needs. Ryan talks his way out of a close call with Sinclair by badmouthing Annie and defending Richie. Before leaving, Ryan tells Aidan that he found out that the missing years in Sinclair's records match the time when Richie was in prison. Aidan phones Ryan after hacking into Sinclair's computer and finding a letter from a Chicago prison admonishing her for improper conduct with an inmate. Sinclair breaks Annie down with a recording of her earlier conversation with Ryan. Aidan tries to hide his concern when Sinclair confronts him with Annie's taped confession. Sinclair uses Aidan's departure to further dig into Annie. Greenlee becomes upset after learning that Ryan, Aidan and Tad have been trying to help Annie, who with the help of an unlocked door walks right out of Oak Haven, again. Sinclair agrees to give Aidan 24-hours to find Annie after he threatens to expose her connection to Richie.
A Closer Look: Damages
The tension is thick between Reese and Bianca as the reality of their decision begins to seep in. Erica and Greenlee share their concerns for Kendall. Greenlee tries to get Kendall to open up to her. Zach accuses Kendall of punishing him for fathering Gabrielle. Kendall wonders why Zach went ahead and made the choice to father the child knowing that she wouldn't have wanted him to. On the dawn of the double wedding, Mrs. Slater informs her husband that she has no intention of going to Bianca's wedding to watch him carry Gabrielle down the aisle – which poses a problem for Bianca who refuses to get married without Kendall there. Kendall tells Bianca she'll go to her wedding under the condition that she, Reese and Gabrielle leave town following it; elsewhere, Zach suggests the same to Reese. Zach and Kendall discuss the details of their conversations with the brides-to-be. Kendall's vitriol intensifies at the rehearsal dinner and ends in a scathing toast on Thursday, February 12. Alone, a tipsy Reese tells Zach that she can't continue denying her feelings for him and draws him into a kiss, which Ryan sees.
What to Watch: Cliffhangers
Ryan accuses Zach of having an affair with Reese. Kendall, meanwhile, overhears Reese and Bianca telling a happy Erica that they've decided to stay in town after all. Zach jumps in Kendall's car as she storms off, driving recklessly in her anger. Ryan tells Greenlee about Reese's indiscretion and convinces Greenlee to postpone their wedding. Greenlee takes off after Zach and ends up on a collision course with Kendall. Fresh from knocking out Aidan, a gun-toting Annie stops Ryan in his tracks. Meanwhile, in the chapel, Reese and Bianca begin reciting their vows.
All My Children News and Headlines:
SON ALERTS: WEEK OF FEBRUARY 16, 2009
Monday: Ryan drops a bombshell on Kendall. Greenlee's life is in jeopardy. Annie experiences a breakthrough.
Tuesday: Greenlee's loved ones fear the worst. Bianca orders Reese to stay away from her. David reminds Amanda that he has her under his thumb.
Wednesday: Ryan threatens to destroy Zach. Annie pushes Sinclair too far. Bianca confronts Reese about kissing Zach.
Thursday: Annie finds a savior in Aidan. Bianca tells Reese they're through. Reese blames Ryan for ruining her life.
Friday: Bianca wonders about the state of Zach and Kendall's marriage. Ryan warns Erica he's going to make Zach pay. Kendall refuses to help Bianca.
"All My Children" airs Weekdays on ABC. Weeknights on SOAPnet. Check local listings.
---