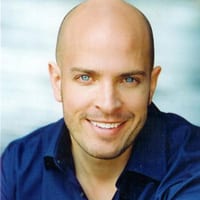 (SoapOperaNetwork.com) — Former "General Hospital" and "General Hospital: Night Shift" actor Graham Shiels (ex-Cody Paul) is set to appear in tonights episode of CBS' "The Mentalist" as Officer Tom Rowley, who pulls over Patrick Jane (Simon Baker) as Jane's day goes from "bad" to "worse."
"I try really hard to take down that smug, charming Aussie," said Shiels. "It's hard though."
In addition to his role on "GH" and "GH:NS," Shiels appeared in episodes of HBO's "True Blood," NBC's "The Event" and ABC's "The Whole Truth."
See below for a summary of tonight's episode and a clip of what to expect.
THE MENTALIST: RED ALERT
Patrick Jane and others are taken hostage by an armed man accused of murder, Jane must think quickly to defuse the situation on the next episode of The Mentalist.
"The Mentalist" airs Thursdays at 10/9c on CBS.