Thursday, February 19, 2009 11:18 PM EST | By Scotty Gore
---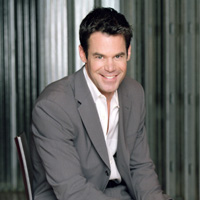 (SoapOperaNetwork.com) — Here today, gone tomorrow.
Llanview's newest Buchanan prepares to leave town just as he learns of his true identity. Are Tuc Watkins and "One Life to Live" attempting to set a record for most departures of a single actor on a soap? It appears as such, given that ABC Soaps in Depth is reporting that Watkins recently taped his final scenes with the show, less than a week after his character learned of his new family. This will be Watkins' eighth departure from the show since originating the role of lovable conman David Vickers in 1994, and the fourth since May 2007. While his latest stint in Llanview was always reported to be short-term, it still comes as a shock to fans to were just beginning to warm up to the fact their favorite con artist has Buchanan blood pulsing through his veins. Look for David to exit Llanview in the coming weeks, but not before he learns that Asa is really his grandfather, and not his father. Given "One Life's" unusual taping schedule, Watkins' final airdate will likely be sometime in late March or early April.
Hank Gannon may be returning to Llanview, but that doesn't mean he'll stay there. Nathan Purdee returns as the former District Attorney and Nora Hanen's ex-husband on Wednesday, April 1. However, don't look Hank to put down roots again
in his old stomping ground. Instead, the actor's return to "One Life," is for a 'limited engagement' to help reintroduce his daughter Rachel to Llanview. Daphnée Duplaix Samuel first airs as Hank and Nora's bi-racial daughter on Tuesday, April 7th.
Is Renee Elise Goldsberry reuniting with the cast of "One Life to Live?" No, but that doesn't necessarily mean that her character Evangeline Williamson won't be returning to Llanview. The suder is looking for someone who play her body double when the comatose attorney is visited by a familiar face. Rumor has it that "One Life" may be looking to recast the role later this spring, according to ABC Soaps in Depth. Goldsberry is six months pregnant with her first child.
It's all about me, isn't it? Kamar de los Reyes, who late last year complained that "OLTL" wasn't treating his character with any respect, is nearing the end of his run with the show. The actor, who has portrayed gang leader turned cop Antonio Vega on and off since 1995, taped his final scenes on January 27th. As for a final airdate, don't expect to hear one anytime soon given that a "OLTL" spokesperson claims that the show "doesn't want to ruin the actor's upcoming exciting storyline." Speculation persists that de los Reyes' co-star and onscreen girlfriend BethAnn Bonner (Talia Sahid Hesser) may not be far behind.
Looks like Llanview won't get 'Born' again after all. SON was first to tell you last week that, despite reports to the contrary, Roscoe Born will not be reprising the role of presumed dead cult leader Mitch Laurence this spring. The same goes for Andrea Evans, who has made no indication thus far that she is bringing Tina Lord Roberts back to Llanview in 2009. Instead, viewers can expect at least one familiar face from Marty Saybrooke's past to return to Llanview in the coming months./p>
Is a Llanview leading lady being shown the door? Rumors persist that one of "OLTL's" longtime female veteran cast members may soon be on her way out due to a budget crunch at the long running daytime drama; a spokesperson for the show had no comment.
Former "One Tree Hill" star Brett Claywell finally makes his "One Life" debut on Monday, February 23. Fans may recall that Claywell was originally tapped to play the role of Schuyler Joplin, only to have the show to do an about face and cast "General Hospital" alum Scott Clifton in the role instead. Claywell will now portray Kyle, a lab technician with the Llanview Police Department. The role is recurring.
Florencia Lozano will soon be wrapping up her latest stint as Téa Delgado. Lozano, who signed a short-term contract with "OLTL" last September, is expected to last air sometime in April.
Look for more dayplayer roles in upcoming episodes on March 12th, 24th, and 27th.
"One Life to Live" airs Weekdays on ABC. Weeknights on SOAPnet. Check local listings.
---