Wednesday, February 18, 2009 5:00 PM EST |
By Angela Rosa
---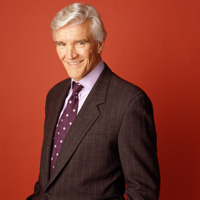 (SoapOperaNetwork.com) — Go Red for…Green?
THIS WEEK ON: ALL MY CHILDREN
On Monday, February 23, Adam tells Erica that he wants his investment in Fusion back…now! A bitter Ryan refuses to allow Annie see their daughter. Ryan is intent on getting revenge on everyone who had a part in Greenlee's death. Erica reaches out to Jack. Aidan admits to Angie that he's fallen for Annie. Brot opens up to Taylor on Thursday, February 26. Ryan sets his sights on the casino. Pete gives Colby bad news about her family's finances. Angie reaches out to a grief-stricken Ryan.
A Closer Look: The Choices We Make
David brushes off Amanda's claim that she saw him at the inn the night Greenlee died. David warns Amanda to speed up her efforts in making JR look like an unfit father so he can claim Little Adam for himself. Amanda confides in Jake who later probes Krystal for dirt on David. David, meanwhile, continues to pressure Amanda to give him what he wants. David gives Krystal some pills to calm her nerves as the Go Red for Women gala begins. JR and Krystal find David and Amanda together, again. Krystal overhears Frankie and Jake discussing David being the father of Amanda's child on Wednesday, February 25. Jake gives Krystal good reason to keep David in the dark about her discovery. Krystal does confide in Angie who is shocked to learn of Frankie and Jake's role in Amanda's duplicity. Amanda can't bring herself to destroy JR. Jake tries to bolster Amanda's spirit. JR is not pleased to find Amanda in Jake's arms. David is confident everything is going according to plan when Krystal says that she wants to marry him.
The Inside Story: Love and War
Reese is desperate for an ally in the battle for Gabrielle, but both Zach and Ryan are unwilling. Kendall begrudgingly agrees to help Bianca. Bianca and Reese both become uncomfortable with the idea of taking their battle to court. Reese tells Bianca that she'll sign away her parental rights and hopes that Bianca can forgive her one day and let her be a part of Gaby's life. Adam reaches out to a suspicious Reese. Back at the Slater home, Kendall informs Zach that they'll be sleeping is seperate bedrooms. On Tuesday, February 24, the freeze out gets to Zach who wishes his wife would talk to him or even just yell and scream. Kendall is not receptive when Bianca arrives to say goodbye. Bianca tells Kendall that she won't give up the hope that they'll be able to repair their relationship one day. At the casino, Bianca allows Reese to say goodbye to Gabrielle. Zach arrives and shares a heartfelt goodbye with his daughter as Kendall watches on. Kendall stops Bianca before she leaves for the airport and pulls her sister into an embrace.
Reese accepts Adam's invitation to the Go Red gala. A melancholy Zach tells Kendall that she better get used to the fact that he's never going to forget Gabrielle. At the gala, Reese stands her ground as she informs Erica, Kendall and Zach that she's staying in town. The shocked architect later overhears Kendall and Zach discussing the accident and suffering the side effects of drinking Krystal's spiked drink lets the information leak to Adam, who promises to keep her confidence. Reese swears to Zach and a dubious Kendall that she won't use what she overheard against them. Adam has other ideas and, on Friday, February 27, confronts the Slater's with the news he's learned.
All My Children News and Headlines:
SON ALERTS: MARCH 2, 2009
Monday: Adam has Zach right where he wants him. Kendall accuses Reese of plotting to steal Zach away from her. David exposes Amanda's misdeeds to JR.
Tuesday: Krystal and David seal their deal. David's suspicions about Amanda grow stronger. Taylor and Brot wake up in each other's arms.
Wednesday: JR promises Amanda that he'll protect her. Reese warns Kendall she's through being a pushover. Ryan learns the truth about Greenlee's accident.
Thursday: Ryan and Kendall pay tribute to Greenlee. Annie may not be as well as she claims. Amanda is left rattled by David's threats.
Friday: Krystal confronts David with her suspicions. Reese blames Zach for her condition. Kendall and Ryan help each other in their grief over Greenlee.
"All My Children" airs Weekdays on ABC. Weeknights on SOAPnet. Check local listings.
---