Wednesday, February 18, 2009 5:00 PM EST |
By Scotty Gore
---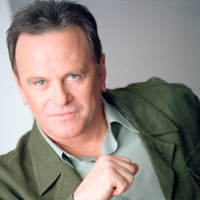 (SoapOperaNetwork.com) — The Prodigal Son.
THIS WEEK ON: ONE LIFE TO LIVE
Natalie and Jared continue to investigate why Tess was at Llanview Hosital the night of Chloe's birth. Lansgston discovers Markko's UCLA acceptance letter on Monday, February 23. Michael and Marcie continue to find their way back toward one another. Gigi observes her nearly naked sister comforting Rex following a nightmare on Tuesday, February 24. Stacy breaks the heart of Oliver Fish, who is comforted by Noelle. Natalie becomes more determined than ever uncover the truth. Cole and Markko wish life wasn't so complicated. On Wednesday, February 25, Langston is torn by Markko's decision to remain in Llanview and not attend UCLA. Moe helps push Starr and Cole back together. However, by week's end, Cole confronts Starr, believing she tipped off about Schuyler about his drug use after the young teacher has a chat with him. Jared keeps Natalie from confessing all of what they uncovered. Natalie and Jessica begin to mend fences. And Gigi is unnerved by Stacy's behavior, and forces her sister to pay her own way.
The Inside Story: Family Ties
Viki provides shelter for Nigel, Clint, and Nora on Monday, February 23. Meanwhile, David and Dorian enjoy their new home. Addie scolds the newlyweds for their actions. Bo is floored by the results of the latest DNA test. On Tuesday, February 23, Dorian and David attempt to thwart the Buchanan's attempt to retake the mansion. Bo confides a shocking secret to Rex. Roxy feds Rex another lie about the identity of his father on Wednesday, February 25.  The fib is quickly exposed, however, when Bo assures Rex that David could not be his biological father. The news prompts Rex to once again confront his mother. Meanwhile, the Buchanans receive the shock of a lifetime concerning David's true paternity on Wednesday, February 24. As Bo is forced to accept the unthinkable, Roxy begs Rex to drop the subject by claiming that she killed his real father. Rex offers Bo advice on Matthew. By Friday, February 27, Viki leaves David with some serious food for thought. And Matthew finds a ally in a new girl named Destiny.
A Closer Look: All's Far in Love and War
Armed with a knife, Ray seeks revenge on Vanessa. Cristian comes to following the blow to his head and tackles Ray. On Monday, February 23, Tea and Lola arrive on the scene just as Ray overtakes Cristian. The ensuing confrontation forces Vanessa to confess to framing Ray. Claiming her love for him is real, Vanessa tells an indifferent Cristian that she truly cares for him. Antonio arrests both Ray and Vanessa, who retains that her ex-husband murdered Lola's mother. On Thursday, February 26, John and Blair have a heart-to-heart about their feelings. Dorian gives an emotional Blair a shoulder to cry on. Marty receives good advice from Ray while in their jail cells, and later reaches out to John. Antonio blasts Tea for her treatment of Cristian, who refuses to accept Vanessa's apology. On Friday, February 27, Blair creates trouble for Marty. John ponders a possible connection between the murders of Lee and Wes. Marty asks John for help. Tea promises Ray that he will soon be free. Lola has a secret. And Starr ends her relationship with her father, claiming that his recent suicide attempt led her to the revelation that he is capable of anything.
One Life to Live News and Headlines:
SON Top 10: Who was the best of the best on "OLTL" during the week of January 16 – 20, 2009? You decide! The SON Top 10 is back! Voting begins Friday's at 4:00 PM, EST.
SON ALERTS: WEEK OF MARCH 2, 2009
Monday: Roxy goes to great lengths to protect her secret. Starr wants Cole to seek help. David makes a surprising decision about his future.
Tuesday: Natalie asks Rex for his help. Gigi catches Stacy's lie. Cole falls futher into the pit of despair.
Wednesday: John and Blair have a stormy relationship. Marty confronts Cole about drugs. Rex and Natalie make a shocking discovery.
Thursday: Blair's anger bubbles. Cole sees Starr with Schuyler. Matthew gets up his nerve around Becca.
Friday: Blair fights for her life. Cole's actions may prove fatal. Stacy is determined to get what she wants.
"One Life to Live" airs Weekdays on ABC. Weeknights on SOAPnet. Check local listings.
---