Wednesday, December 24, 2008 6:34 PM EST |
By Angela Rosa
---
(SoapOperaNetwork.com) — Perilous relations.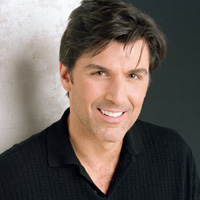 THIS WEEK ON: ALL MY CHILDREN
Taylor puts a plan in motion after realizing Brot plans on leaving for good as soon as she's completely healed. Adam blames Amanda for his son's condition. A guilt-ridden Amanda tells JR he'd be better off without her in his life. Amanda finds JR fighting the urge to drink on Friday, January 2. Colby is unsettled by Krystal's relationship with David. Krystal can't fight the urge to be with David and drops the kids off with Winifred in order to get to him. On Tuesday, December 30, a guilty Krystal wakes up in the David's bed. Krystal learns Tad's missing. JR and Jake observe David and Krystal's bond. Jake pays for the price for sassing the chief of staff.
On New Year's Eve, Bianca is detained at home with Gabrielle and then Simon, Reese's former fiancé. Zach and Reese, meanwhile, ring in the New Year with a friendly kiss. Zach and Reese dismiss their kiss and try to convince themselves it was nothing. Bianca worries that Reese is keeping secrets. Reese isn't happy to see Simon.
A Closer Look: Group Therapy
Ryan, Greenlee and a delusional and dangerous Annie's confrontation grows even more tense when Opal and Emma arrive at the penthouse. Greenlee distracts Annie while Ryan tries to regain his wits after being knocked unconscious. Aidan runs into trouble at Oak Haven on Monday, December 29. Ryan and Greenlee share a very romantic New Year's Eve. Greenlee initially rejects Ryan's marriage proposal but has a change of heart after a calming meeting with Opal. Opal later realizes she misread Greenlee's cards. Opal is convinced something horrific will happen if Greenlee marries Ryan. Aidan, meanwhile, discovers that Dr. Sinclair has been secretly videotaping Annie.
"AMC" will air an encore presentation on Wednesday, December 31 (10/22/08) and be pre-empted on Thursday, January 1.
 SON ALERTS: WEEK OF JANUARY 5, 2009
Monday: Bianca's suspicions are raised when she finds Reese with Zach. Krystal denies JR and Jake's accusations about her and David. Adam wants to know where he stands with Erica.
Tuesday: David is a step closer to getting what he wants. Zach and Erica don't see eye to eye. Amanda tries to stop JR from drinking.
 Wednesday: JR takes action against David. Brot realizes Taylor has been lying to him. Bianca can't get past her insecurities.
Thursday: Opal accuses Krystal of having an affair with David. JR threatens to kill David if he doesn't come clean. Bianca decides to test Zach and Reese.
Friday: Tad learns Krystal has been spending time with David. Krystal tries to talk sense into JR. Erica confronts Zach and Reese.
---