Monday, July 20, 2009 12:49 AM ET |
By Venus Stone
---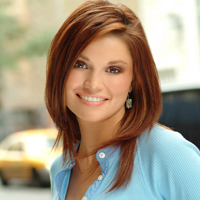 (SoapOperaNetwork.com) –Pointing fingers…
THIS WEEK ON: GUIDING LIGHT
James become fed up when Philip and Alan can't seem to get along, and leave them stranded in the woods, Monday, July 20. On the same day, Cyrus clues Buzz in on something regarding Coop. Everyone comes together to say their good-byes to Jeffrey, Friday, July 24.
The Inside Story: Under Suspicion

Mallet, still fixated on who murdered Edmund, soon finds himself suspecting Marina, due to her strange behavior. Talking to Dinah, he admits that he's still trying to wrap his head around the thought of his wife murdering someone. Meanwhile Ashlee is helping Dinah put together a program of Jeffrey's life, while Reva and Marina both bond over watching their children play together. Dinah, seeing that Mallet can't let go of his suspicions, tells him he has to move on, but he's unable to do that, especially when Marina throws away a toy Jeffrey got Henry. He questions why she would do that and she tells him that she can't hold on to reminders of people that aren't there. Pressing her for a 'confession' Mallet tells her she can open up to him about anything. When she doesn't respond, he blurts out the he knows she killed the man she thought was Edmund. Stunned, Marina tells her husband that she can't believe he would think she'd be capable of killing someone. Unconvinced, Mallet insist she tell her the truth, which causes her to storm off and into Danny.. When Dinah comes to visit and tell Mallet the news of Shayne's proposal, Mallet admits that she confronted Marina about killing the 'John Doe'. Later that day, Remy tries to give Mallet the damaged stroller, which he accepts. From a distance, Remy sees Mallet destroying the stroller in anger and he begins to realize that Marina could have killed to protect her son. Meanwhile, Billy approaches and upset Marina, letting her know that altough Reva may have lost Jeffrey, Marina still has a husband to be there for her. Marina goes to Mallet begging for them to work things out, insisting she didn't kill anyone.
A Closer Look: Drowning Her Sorrows
Depressed about Natalia leaving, Olivia continues to drink to the point where she forgets to pick Emma up. Christina picking up on Olivia's 'condition' decides to help out by getting the young girl. When Olivia spots someone that looks like Natalia, she goes running after her but quickly apologizes when she sees her up close. While with Christina, Emma tells her that Olivia's sad that her friends are gone. Meanwhile Blake visits Olivia and finds her in sitting on the bathroom floor. Olivia begins to grill Blake for information about Natalia but Blake refuses to help her. Olivia soon talks to Remy and informs him she wants to dig into Natalia's past work history. After Remy questions why she wants to dig into Natalia's past, she tells him that Natalia is missing; to which he agrees to help. Meanwhile, Olivia tells Christina to drop Emma off because they are leaving for Chicago. Emma, however doesn't want to go so Olivia has someone watch her. While in Chicago, Olivia confronts one of Natalia's old bosses demanding to know where she is. When they refuse, Olivia handcuffs herself to the bar and is later arrested. Calling Josh for help, he comes to bail her out.
What To Watch
Rafe confesses the truth about his mom
Someone admits what they've done
Guiding Light News and Headlines
Fiona Hutchinson reprises her role as the ghostly "Jenna"on Wednesday, July 29 and Thursday, August 13
Tom Pelphrey returns to the show as 'Jonathan Randall" on Wednesday, August 5
Frank Dicopoulous ("Frank Cooper") will be the honorary chairperson for FAAN Walk for Food Allergy: Moving Toward a Cure in Long Beach, NJ on Saturday, September 12. Please visit FAAN for more detailed information.
Murray Bartlett ("Cyrus") and other daytime stars will set sail on Soap Cruise, the Third Voyage on Thursday, January 28 until Monday, February 1, 2010. Please visit Soap Cruise or call 1-888-381-4654 for more detailed information.
Robert Newman ("Josh Lewis") will appear in a production of the musical Sessions beginning on Friday, May 29, 2009 at the Algonquin Theater, located at 123 East 24th Street. Newman will be starring as "Dr. Peterson" Wednesday-Saturday at 8PM. For more information and tickets, please contact Glenna Freedman at Sessions or call 1-212-764-7900 for more detailed information.
SON Top 10: Who was the best of the best on "GL" during the week of July 13, 2009? You decide! The SON Top 10 is back! Voting begins Friday's at 4:00 PM, EST.
SON ALERTS: WEEK OF JULY 27, 2009
Alan learns the truth about Philip
Frank's evesdropping gives him key information
Dinah and Shayne say 'I do'
"Guiding Light" airs Weekdays on CBS. Check local listings.
---
---
You may not reproduce content without written permission from author.

© 2009 Soap Opera Network. All rights reserved.
Discussion: GL PreVUE: Week of July 20 Edition