Wednesday, September 17, 2008 2:30 PM EST |
By Angela Rosa
---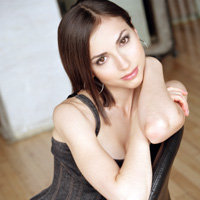 (SoapOperaNetwork.com) — The healing touch.
Vincent Irizarry returns to "All My Children," as Dr. David Hayward, on October, 23, one week after a devastating tornado hits the little town that the troublemaking doctor left behind almost two years to the date. Could David's return have something to do with an ominous warning Opal (Jill Larson) issues to both Krystal Carey (Bobbie Eakes), the mother of David's only living child, and the doctor's former lover, Erica Kane (Susan Lucci), in the coming weeks or will we learn that the doctor has been lurking in the shadows all along?
Irizarry started his daytime career on CBS's "Guiding Light" where he played the popular Lujack Luvonaczek. The Emmy-nominated actor joined the cast of ABC's "AMC" in 1997 where he would play Dr. Hayward until he was given the pink slip in late 2006. CBS's number one rated soap "The Young and the Restless" quickly picked up the talented actor for the role of David Chow. Irizarry played this incarnation of David from January 2007 until last August when the unpopular character was killed off.
"AMC" head writer Charles Pratt reports that the evil wind that blows through Pine Valley will also pave the path for the return of "probably the most loved character of the last 10 years that's been on "AMC," and that's Bianca." Eden Riegel is returning to "AMC" as Bianca Montgomery, again. Riegel tells ABC Soaps In Depth that she's "not just stopping in," she's back with a contract. Pratt hints to the magazine that Bianca's return with coincide with her "ever-suffering family going through one mother of a rough patch;" though it likely won't be the only tragedy striking the family following the disaster that hits Pine Valley next month, a cryptic Pratt hints of Bianca being there in the wake of an all new horribleness that befalls Zach and Kendall (Thorsten Kaye and Alicia Minshew) that she'll help heal.
Pratt also reports that their will be three other surprise arrivals aside from Riegel's – but points out that two of those arrivals will be directly connected to the character of Bianca's return. Pratt previously reported to TV Guide that "a character from Erica Kane's past returns to fundamentally change her life;" while that could mean anybody from her aforementioned daughter, Bianca, to Dr. Hayward, Soap Opera Network speculates that this may be one of those still to be announced surprise returns.
In other "AMC" news, the role of Natalia has been cast. The character, likely one of those faces from Jesse's past promised by Pratt in his fall previews, will start appearing regularly in early October. The character will indeed be circling the Hubbard family.
"All My Children" airs Weekdays on ABC. Weeknights on SOAPnet. Check local listings.
---
Eden Riegel
AMC
Vincent Irizarry