Thursday, July 3, 2008 1:20 AM |
By Errol Lewis
---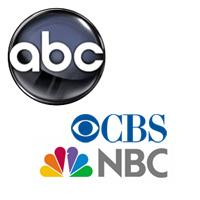 (SoapOperaNetwork.com) — The average age of a daytime viewer has increased tenfold on the ABC, CBS, and NBC Broadcast Networks.
According to data released last week by Steve Sternberg, executive vice president, audience analysis at Magna Global, one of the world's largest media services firms, the average age of an individual watching daytime programming on the broadcast networks has increased season-to-season to 54 years-old from 50 years-old. ABC jumped four years to 53 from 49 last year; NBC went up to 49 from 43, while CBS aged up to 59 years-old from 56.
The oldest skewing daytime series was CBS' "The Price is Right" with an average audience of 64, while NBC's "Days of our Lives" had the youngest audience at 49.
Overall CBS is the oldest skewing network with an average viewer aged 55 between all day parts (morning news, daytime, evening news, primetime and latenight). NBC is the youngest at 52.
---