The newest issue of CBS Soaps In Depth, citing multiple sources, is reporting that there may be truth to reported rumors that Michelle Stafford is leaving Phyllis Summers and "The Young and the Restless" to head to ABC's "General Hospital." According to one of the mags sources, "It would be a big coup to get Michelle, and 'GH' knows it." This is of course in response to "Y&R" and "GH" swapping cast members. In January, Steve Burton (ex-Jason Morgan, "GH") joined "Y&R" as Dylan McAvoy, and in April, Emme Rylan (ex-Abbie Newman) joined "GH" as Lulu Spencer.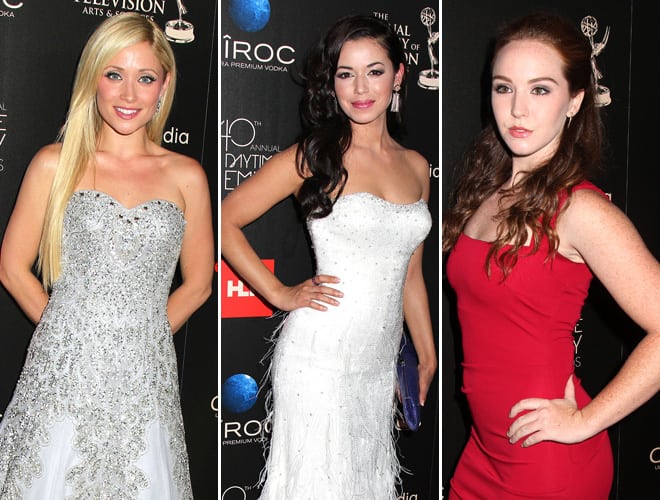 Photo Credit:
Steven Bergman Photography
If you think picking out what to wear for work in the morning is stressful, imagine what it would be like if your work was going to the 40th Annual Daytime Entertainment Emmy Awards, where swarms of reporters and photographers were going to capture your every detail! Stressful, yes. But also ridiculously fun! Soap Opera Network caught up with some of daytime's hottest stars on the red touch red carpet during the exciting event, and they spilled details on who they were wearing and why they chose the specific looks they did. So sit back, relax and hear the stories on how these bold performers got so dang beautiful!
News that "The Young and the Restless'" Jeanne Cooper (Katherine Chancellor) passed away this morning has rocked the entertainment community, and the beloved actress' colleagues have responded with an outpour of memories, loving words and final farewells via Twitter. Soap Opera Network has rounded up all of the sentiments written so far, which include kind words from her "Y&R" co-stars and beyond.
It's only been a few weeks since Melissa Ordway took over for Emme Rylan as "The Young and the Restless'" Abby, and the actress already feels right at home. That's partly because the cast has been together a lot celebrating the show's 40th Anniversary, but it's also because, as the actress puts it, the entire cast is just like a real family.
"The experience has been amazing," the former "Hollywood Heights" star reveals. "The first scene I had was with Eric [Braeden, Victor Newman] and Joshua [Morrow, Nicholas Newman] — basically my whole family.  I was so intimated, because I had watched the show forever, so I was like, 'Oh my gosh! I have a scene with all of these people that I've grown up watching?!" But they were all so lovely and kind, and they made me feel right at home immediately."
"General Hospital's" Luke and Laura Spencer (Anthony Geary and Genie Francis) won't have to fret about their missing daughter for long: Lulu disappeared and has been off the canvas since Julie Marie Berman last aired on March 22, but now, her new portrayer, Emme Rylan, has announced when her nuLulu will be hitting the screen!
On Monday, April 1, ABC's "General Hospital" turns 50! In honor of the event, fans have been anticipating the return of one of the shows grandest events…the Nurses Ball. While things don't kick into high gear for the event until the Friday, April 5 episode, we at Soap Opera Network wanted to make sure you got a glimpse of some of your favorite actors before their characters start singing, dancing, and throwing punches.
Emme Rylan may be between soaps at the moment (having recently left her role as "The Young and the Restless'" Abby Newman in order to play "General Hospital's" Lulu Spencer), but you can still catch her onscreen — if you're quick!
Just hours after news broke that "The Young and the Restless'" star Emme Rylan (Abby Newman) was leaving the show and headed to play "General Hospital's" Lulu Spencer, word spread that the soap had already replaced her! A CBS spokesperson has confirmed to Soap Opera Network that the drama series has tapped actress Melissa Ordway to take over the role of the Newman heiress.
Fans may recognize the young actress and model from such shows as "Privileged" and "Entourage," as well as from the film "17 Again." Read More >>
Rumors swirled this morning that 'The Young and the Restless" star Emme Rylan, formerly known as Marcy Rylan, was headed to "General Hospital" as the new Lulu, and it turns out, the rumors are true! Rylan, who played "Guiding Light's" Lizzie Spaulding from 2006-2009, will assume the role from two-time Emmy award winner Julie Marie Berman, who announced just last week that she has decided to leave the role of Luke and Laura's daughter after a seven year run.