Christmas is coming a little bit early for fans of Cameron Mathison (ex-Ryan Lavery, "All My Children") this year. The actor is gracing the small screen alongside Jennie Garth ("Beverly Hills, 90210") in an ABC Family "25 Days of Christmas" film titled "Holidaze."
The feel-good flick follows Melody (Garth), a high-powered workaholic who plans on spending the holidays jet-setting with friends — until her boss sends her to her sleepy hometown with the task of convincing the townspeople to allow the building of a new discount store! Everyone — including her old friends and high school sweetheart, Carter (Mathison) — are opposed to the idea, which starts a recipe for trouble. Desperate to get out of town and back to her normal life, Melody takes a spill and wakes up in an alternate universe where she never left town and is married to Carter!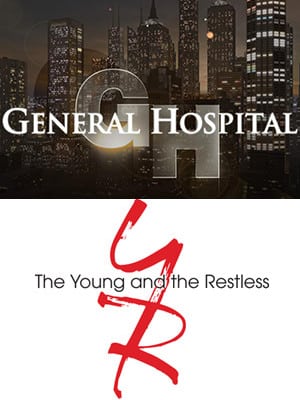 The Writers Guild of America, West (WGAW) and the Writers Guild of America, East (WGAE) announced today nominees for Outstanding Achievement in Television, New Media, News, Radio, Promotional Writing, and Graphic Animation during the 2013 season for its annual Writers Guild Awards. In the category of Daytime Drama, NBC's "Days of our Lives," ABC's "General Hospital" and CBS' "The Young and the Restless" are set to duke it out when the ceremony takes place on Saturday, February 1, 2014 at simultaneous ceremonies in Los Angeles and New York.


The flood of "The Bold and the Beautiful" and "The Young and the Restless" stars visiting "The Price Is Right" as celebrity guest models continues this month, the network recently announced. Keep your eyes peeled on the following dates:
Friday, Dec. 6 – Melissa Ordway (Abby Newman, "The Young and the Restless") — Rebroadcast
Monday, Dec. 9 – Melissa Ordway
Friday, Dec. 13 – Lawrence Saint-Victor (Carter Walton, "The Bold and the Beautiful")
Tuesday, Dec. 17 – Melissa Ordway
Wednesday, Dec. 18 – Karla Mosley (Maya Avant, "B&B")
Thursday, Dec. 26 – Daniel Goddard (Cane Ashby, "Y&R")


"The Young and the Restless'" Robert Adamson (Noah Newman) and "The Bold and the Beautiful's'" Linsey Godfrey (Caroline Spencer) have good news to share: The couple are expecting a baby together!
Adamson shared the happy news on Facebook that Godfrey is carrying his child; a picture of her sonogram photo was included. "Guess What?! How do I tag a future family member?" he wrote. "Should I make it a page? — with Linsey Michelle."
The actor later posted another update announcing that Godfrey is 11 ½ weeks along in her pregnancy.
Congratulations to the happy couple!
The National Academy of Television Arts & Sciences (NATAS) announced yesterday that it's going to be easier than ever for 41st Annual Daytime Emmy race entrants to submit material and for voters to get their voices heard, as the entire process has shifted to an online space! In addition, entries for this year's awards ceremony are now being accepted, and submission are open in all 81 Daytime categories.
"With six Daytime Dramas ["The Bold and the Beautiful," The Young and the Restless," "General Hospital," "Days of our Lives," "All My Children," and "One Life to Live"] in contention this year, we are thrilled to open the gates for what we expect to be a record year in all Daytime Emmy Award genres," said Malachy Wienges, Chairman, NATAS, in an official press release.  "In addition to adding three new Spanish-language categories, we are implementing a brand new entry/judging system that will allow entrants quick and easy submissions and judges the ability to evaluate nominees at work, at home and just about everywhere else!"
Ratings Report for the Week of November 18-22, 2013
NOTE: Please do not copy and paste the entire ratings.  Thank you.
Numbers are based on Live+Same Day ratings
(Compared to Last Week/Compared to Last Year)
Total Viewers
1. Y&R 4,618,000 (-125,000/+240,000)
2. B&B 3,704,000 (+69,000/+498,000)
3. GH 2,777,000 (-202,000/+18,000)
4. DAYS 2,622,000 (-223,000/+275,000)
Households
1. Y&R 3.3/11 (-.1/+.1)
2. B&B 2.6/9 (same/+.2)
3. GH 2.2/7 (-.1/+.2)
4. DAYS 2.0/7 (-.1/+.2)
The Emmy-nominated online soap opera "The Bay" is back for its 11th chapter, and the sudser's return is expected to be edgier, bigger and better than ever!
All of the fun begins Thursday, December 5, when two brand new installments of the series will stream back to back at 3:15PM ET / 12:15PM PT. Afterward, fans can look forward to new episodes on Thursday, December 12 and Thursday, December 19. And, as a special holiday gift for loyal viewers, a one hour uninterrupted TV pilot will stream on Thursday, December 26!

As we've previously reported, "Days of our Lives" Shawn Christian (Daniel Jonas) and Freddie Smith (Sonny Kiriakis) teamed up with Jack Briggs and Nate Hartley to create "Addicts Anonymous," a single-camera mockumentary, and the comedy series is now available for viewing via the web!
Originally planned for primetime television, the series — which stars Molly Burnett (ex-Melanie Jonas, "DAYS"), Lori Loughlin ("Summerland," "Full House"), Matt Walsh ("Veep," "Ted"), Jerry Lambert ("Shameless," "Family Guy"), Christian, Smith and more — is now being offering via the show's official website. Episode one ("Admitting") and episode two ("Support Buddy") are available now. Subsequent episodes will be released as follows:
Tuesday, December 10: "Mistakes"
Tuesday, December 17: "Boot Camp"
Tuesday, December 24: "Pride"
Tuesday, December 31: "Choices"
"We've all written the scripts together, which is really fantastic," says Christian, who also serves as the executive producer for the series. "We all filmed it together, and it's so funny. It really is just fantastic."

Fans have seen "The Young and the Restless'" Lamon Archey (Mason Wilder) tackle some pretty dramatic material in the year he's been a part of Genoa City, but the actor's latest role just may have the power to put those scenes to shame: He's been cast as a lead in the indie short 'The B Word,' which brings awareness to the disease bulimia nervosa.
Written by sisters Nakisha and Nichole Aliece Ceilstan, the film (which is based on a true story) centers around two sisters and how their relationship is affected and threatened by the horrific disease. Archey plays Rashid, a husband to one of the sisters.
For more information on 'The B Word," visit the film's official Kickstarter page.

It looks like "The Young and the Restless'" Summer (Hunter King) has one more name to add to her Christmas gift list this year: Esmerelda, her new friend/fellow model!
Briana Nicole Henry is the lucky girl who's been cast as Summer's new pal and will make her daytime debut on Thursday, December 12, a rep confirms. As for what you can expect? Watch for Esmerelda to mix it up with Summer as the modeling world begins to play a bigger role in the ingénue's life. (Or, in other words, let the trouble begin!)