The creative home of "Grey's Anatomy," "Scandal" and "How to Get Away with Murder," among others, is leaving its longtime home at ABC Studios for a rich overall multi-year deal at Netflix, the streaming giant behind the likes of "The Crown," "Master of None" and "House of Cards."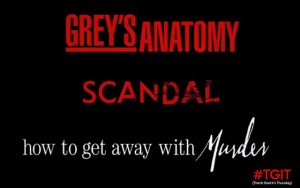 The four-year deal with Shonda Rhimes, the prolific creator of some of America's most talked about primetime dramas, finds her Shondaland shingle moving from its home at ABC Studios to the streaming service to create and produce new projects. Betsy Beers will continue oversight of Shondaland with its move to Netflix.
"Shonda Rhimes is one of the greatest storytellers in the history of television," said Ted Sarandos, Netflix's Chief Content Officer, in announcing the pact. "Her work is gripping, inventive, pulse-pounding, heart-stopping, taboo-breaking television at its best. I've gotten the chance to know Shonda and she's a true Netflixer at heart — she loves TV and films, she cares passionately about her work, and she delivers for her audience. We're so excited to welcome her to Netflix."
"Shondaland's move to Netflix is the result of a shared plan Ted Sarandos and I built based on my vision for myself as a storyteller and for the evolution of my company," said Rhimes. "Ted provides a clear, fearless space for creators at Netflix. He understood what I was looking for — the opportunity to build a vibrant new storytelling home for writers with the unique creative freedom and instantaneous global reach provided by Netflix's singular sense of innovation. The future of Shondaland at Netflix has limitless possibilities."
ABC will stay home to "Grey's," "Scandal," "How to Get Away with Murder," upcoming "For the People" and the Fire Department set spinoff of "Grey's Anatomy."
"Our current shows will continue to thrive on ABC and Shondaland will be there every step of the way," Rhimes said. "I could not have asked for a better home to begin my career. I continue to be grateful to work with so many talented people — especially our studio gladiator Patrick Moran and our most powerful and brilliant champion Channing Dungey. Starting today, we are thrilled to begin creating new Shondaland stories with Netflix. Everyone at Shondaland is honored to expand both our audience and our creative identity with Ted and the entire team at Netflix."
"We're so proud of the work we've done with Shonda and Betsy throughout our long and productive relationship. From the worldwide success of 'Grey's Anatomy' to today, with five series, a pilot from Allan Heinberg and a number of projects in development, we will continue to shepherd that success together," said Patrick Moran, president, ABC Studios. "The Shondaland imprint will always be an important part of ABC Studios and we wish them all the best in this new endeavor."
"Shonda, Betsy and I started working together with the first episode of 'Grey's Anatomy' and those early days will forever remain one of the highlights of my professional life," said Channing Dungey, president, ABC Entertainment. "We are happy to continue working with Shonda and her team at Shondaland on 'Grey's,' 'Scandal,' 'How to Get Away with Murder' and and the upcoming 'For the People' and 'Grey's' spinoff. I'm proud to have given a home to what have become some of the most celebrated and talked about shows on television. With the launch of a new season upon us, fans can rest assured that TGIT remains intact and will be as buzzed about as ever."
According to The Hollywood Reporter, Rhimes had been in negotiations over a new deal with ABC Studios for several months. Ultimately, a deal could not be made between the two parties leaving Netflix to sweep in and sign the buzz creator.