In anticipation of its high concept new dramas, The CW today unveiled key art for shows "Dynasty" and "Valor."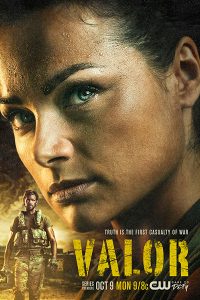 With the tag line "Truth is the First Casualty of War," the "Valor" artwork features Officer Nora Madani (Christina Ochoa) and Captain Leland Gallo (Matt Barr). It was designed by Doug Vallim.
"Dynasty's" marketing campaign is said to be comprised of of two elements, both with the tag line "Vicious. Ambitious. Delicious." In one, you see Blake Carrington (Grant Show) with his daughter Fallon Carrington (Elizabeth Gillies) and his new fiancée Cristal Flores (Nathalie Kelly), who are seen secretly battling behind his back. In the other, the phrases are embodied by characters they most represent: "Vicious" for Fallon and Cristal; "Ambitious" Blake and Jeff Colby (Sam Adegoke); and "Delicious" Steven Carrington (James Mackay) and Sammy Jo (Rafael de la Fuente). The network says the two designs will appear as part of an overall image campaign that coincides with the show's launch this fall on the network. The artwork was designed by Brian Hunt.
"Valor" tests the boundaries between military discipline and human desire on a U.S. Army base that houses an elite unit of helicopter pilots trained to perform clandestine international and domestic missions. The drama unfolds in the present as well as in flashbacks to a failed mission involving one of the first female pilots in the unit, ultimately uncovering layers of personal and government/military secrets, and leading to a season-long plan to rescue a group of MIA soldiers. The show premieres Monday, October 9 at 9:00 p.m. ET/8:00 p.m. PT on The CW.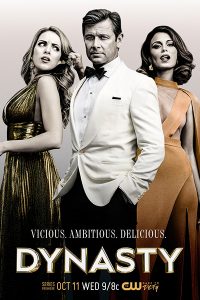 "Dynasty" is a re-imagined take on the popular 1980s drama that ran on ABC. Considered the Rolls Royce of all primetime soaps, the series returns in a modernized reboot that follows two of America's wealthiest families, the Carringtons and the Colbys, as they feud for control over their fortune and their children. The series will be told primarily through the perspectives of two women at odds: Fallon and her soon-to-be stepmother, Cristal — a Hispanic woman marrying into this WASP family and America's most powerful class. In an age where dynasties appear everywhere — from reality TV to the polling booths — this epic drama features the one percent in all its glitz and gloss, while exposing the dark underbelly: a corrupt world built on backroom deals, betrayal, and, in some cases, murder. The show premieres Wednesday, October 11 at 9:00 p.m. ET/8:00 p.m. PT on The CW.
You can view all the key art in their full glory below.
This slideshow requires JavaScript.