Congratulations are in order for former "General Hospital" head writer Ron Carlivati. The writer, along with his team consisting of Anna Theresa Cascio, Andrea Archer Compton, Suzanne Flynn, Kate Hall, Elizabeth Korte, Daniel James O'Connor, Elizabeth Page, Jean Passanante, Katherine Schock, Scott Sickles and Chris Van Etten, took home the WGA Award in the category of Daytime Drama for their writing work on the anniversary episode of the soap opera.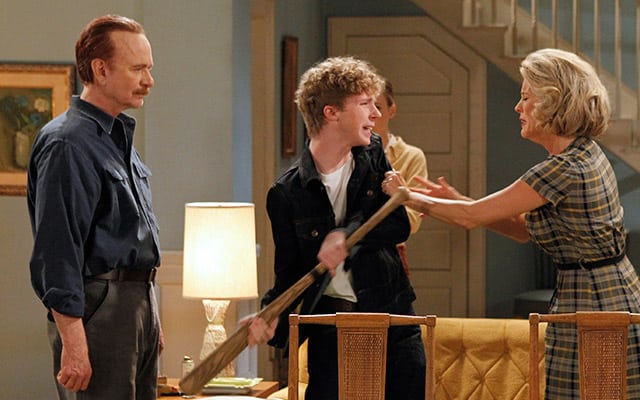 Although his departure as head writer of "GH" was led by record lows in the key sales demos last summer, Ron Carlivati and his team were lauded for their handling of the anniversary episode and its detail oriented styling.
You'll recall that the April 1, 2015 episode of the soap chronicled the re-created life of a young Luke Spencer (played in the episode by Joey Luthman) as he confronted his deadbeat father, Tim (played in the episode by Luke's actual portrayer, Anthony Geary), and the circumstances surrounding the death of Luke's mother, Lena (played in the episode by Laura Wright, who currently plays Carly Corinthos).
In Soap Opera Network's review of the episode, we said, "The death of Tim Spencer (played by Geary), the father of Luke, Bobbie (Jacklyn Zeman) and Patricia, was gratifying. You cared about young Luke (played by Joey Luthman) as he dealt with the reality that he killed his father almost immediately after learning of the death of his mother, who had gone to the hospital earlier in the episode after a blow to the head. Viewers were initially shown that it was a blow from Tim that ultimately led Lena to her grave. It would soon be revealed, however, that a blow from a bat handled by Luke, who had planned to use it on his father, was what brought her to her maker.
As it finally sets in to what truly occurred on that April night, we are brought back to the present as an adult Luke collapses and bursts into a sea of tears surrounded by the one's he loves, younger sister Bobbie, wife Tracy Quartermaine (Jane Elliot), and Patricia, saying, 'I killed her! I didn't mean to…she was only trying to help, and I killed her! I killed momma. I killed momma and daddy! I'm so sorry, I'm so sorry!'"
READ: FANTASTIC: 'General Hospital' Celebrates Anniversary in Grand Fashion
It was recently announced that Geary is one of the pre-nominated actors in the category of Outstanding Lead Actor in a Drama Series for his portrayal as Luke Spencer on "GH." Geary likely submitted himself using material specifically from this episode. "Whether it be his portrayal of Luke, Tim, Fluke, Bill, or whoever else he's tasked to play next, Geary consistently displays a talent unmatched in today's television landscape. He jumps from one character to the next with ease and it's an honor to witness his abilities each and everyday on 'General Hospital,'" we commented in our review of Geary's performance in the episode.
"General Hospital" beat out "The Bold and the Beautiful," the only other nominee in the category.