For some it's a week of second chances, for others luck will run out. This week on "The Young and The Restless," Cane (Daniel Goddard) and Lily (Christel Khalil) finally reunite, and there are more love twists in store for two other couples.
Although Lily had pretty much given up hope that Cane would ever forgive her for her affair with Joe (Scott Elrod), things take an unexpected turn. In a heartfelt moment, Cane makes a major admission to his estranged wife. "I miss you," he declares in a powerful moment between them. The next thing you know the duo are back together — and between the sheets making love. Reconciliation complete!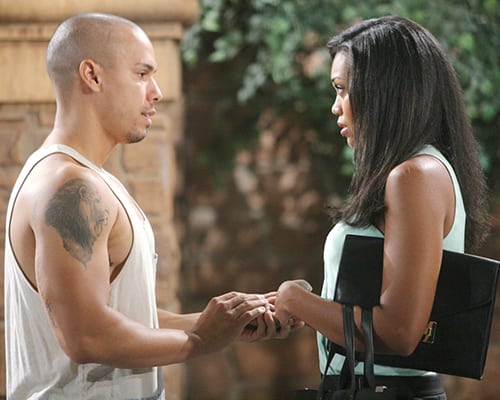 Meanwhile, on the Hilary (Mishael Morgan) and Devon (Bryton James) front, the pair, who have been apart for months, look like they are en route to putting the pieces of their broken marriage back together, too. Hilary begins remembering moments with her husband from before her accident, reawakening her feelings for him. So she approaches him with the news. 'I love you, Devon," admits Hilary. "Give me one more chance." They're the words Devon has been waiting to hear.
Unfortunately, while Cane and Lily and Hilary and Devon are finding their way back to one another, Chelsea (Melissa Claire Egan) and Adam's (Justin Hartley) marriage is imploding. Now that Chelsea knows Victor (Eric Braeden) is holding something over Adam's head and forced him to go back to work for him, she's livid; especially since Adam won't 'fess up to what it is. Chelsea and Adam have a major showdown in Victor's office. "If I have the kind of marriage where my husband can't tell me the truth, your transformation into Victor is complete," barks Chelsea. Then, she storms off. Is this the end for the twosome?
And in news off the romance path, Billy (Jason Thompson), who's been released from the hospital, starts having more memory flashes of the car that ran him down in the parking lot.  "I'm starting to remember," admits Billy. Later, he bumps into Noah, which triggers another memory. "You were there," says Billy. Will a guilty Noah finally confess that he was driving the car that hit Bill?
You can watch a video preview of next week's explosive "Y&R" below: