Monday, January 12, 2009 2:45 AM ET |
Errol Lewis
---
(SoapOperaNetwork.com) — An Affair to Remember.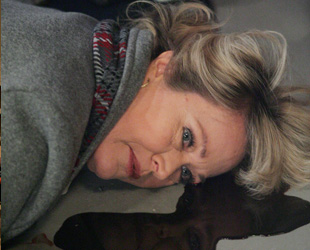 THIS WEEK ON:
DAYS OF OUR LIVES

Can Lucas and Chloe find happiness? Chloe goes to see Daniel and the two give in to passion, but Kate is looming around the corner. Stefano and EJ plan on taking control of the Alternative Fuels Project. Nicole takes Mia to the DiMera mansion in order to show her where her child will be raised. Nicole makes sure that she has a cover story in case someone is around. Brady finds evidence that John is getting his memories back on Friday, January 16. John refuses to leave Salem without Marlena, which doesn't sit well with Charlotte. Melanie learns that EJ is interested in the Alternative Fuels Project, but will she let him have it? Sami sets a plan in motion. Hilda is murdered. Nicole accompanies Mia for her ultrasound with Dr. Baker.
A Closer Look: Stephanie Part Deux
Phillip realizes that Stephanie's presence could be too distracting and decides to reassign her to another work supervisor. Chelsea warns Stephanie that she can't have her cake and eat it too when it comes to Max. The two discuss their dubios relations with the infamous Brady boy. 
What To Watch
Nick faces Judge Fitzpatrick and learns his fate on Wednesday, January 14.
Chloe and Lucas' engagement party begins.
Days of our Lives News and Headlines
Marsha Clark appears as Judge Fitzpatrick.
SON Top 10: Who was the best of the best on "DAYS" during the week of January 5 – 9, 2009?  You decide! The SON Top 10 is back! Voting begins Friday's at 4:00 PM, EST.
SON ALERTS: WEEK OF JANUARY 19, 2009
Nicole faces off with Sami.
Kate gives Lucas a stern warning.
Charlotte is out for revenge.
John and Marlena bid Salem farewell.
Chloe contemplates leaving Salem.
"Days of our Lives" airs Weekdays on NBC. Weeknights on SOAPnet. Check local listings.
---
Discussion: DAYS PreVUE: Week of January 12 Edition
---