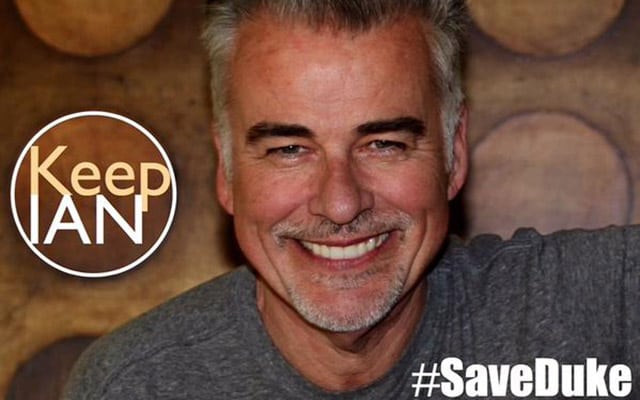 When news first hit the web in August 2012 of Duke Lavery being very much alive on ABC's "General Hospital," it not only became a trending topic in the United States on Twitter, but also worldwide. Nearly three years later, it looks like the character will be heading back to the grave as portrayer Ian Buchanan is said to have recently learned that the writers have plans to off the character once more. It would be a huge mistake on their part as it would defeat the entire purpose of resurrecting the character in the first place.
Prior to his return to Port Charles, viewers last saw Buchanan in the role in 1989, when Duke faked his death and entered into the witness protection program. While the character later returned to the series with a new face as portrayed by actor Greg Beecroft within the same year, alas, he was killed off in 1990, but it turns out that version of Duke was just an imposter.
"We will eventually find out that the Duke Lavery we saw die all those many years ago was an impostor. This is the real Duke," said Frank Valentini, executive producer, in an interview with TV Guide's Michael Logan, which was published in August 2012.
It took over two-decades for Duke to return, as played by Buchanan, and the show seemingly gave a convincing reason as to why he'd been gone all this time, in addition to the aforementioned imposter tidbit. Duke was being held captive in a Swiss mental institution by Cesar Faison (Anders Hove), who was also holding Robin Scorpio (Kimberly McCullough), the daughter of Duke's lady love, Anna (Finola Hughes), as well. After he was revealed to be the real Duke, the character segued nicely to life in Port Charles. He had his love back in his arms and bed, and those he cared most about surrounding him. Duke was also asked to be the best man at Mac Scorpio's (John J. York) wedding to Felicia (Kristina Wagner). Despite a bout of poisoning, Duke went on to get a job with Derek Wells, who was later discovered to be an alive Julian Jerome (William deVry), which led to the revelation of close ties to the mob and one Sonny Corinthos (Maurice Benard).
So that's there story of the Duke we know about today. But that's not the end of Duke's story, at least it shouldn't be. Beyond the fact that Ian Buchanan is a phenomenal actor, Duke is a complex character with several possible story directions ahead. If John Black (Drake Hogestyn) on "Days of our Lives" can father a celebrity baseball player that no one ever heard of during a time no one can place, why can't Duke have found some intimate moments with a female partner during the time he was captured? He could also have a mystery child out there somewhere by other means. Why not explore that possibility? Why not bring us back to the time in which Duke's kidnapping by Faison took place in the same vein as we saw the death of Luke's (Anthony Geary) mother and father for the soap's 52nd Anniversary last week. Instead of doing a one-off episode, we could incorporate it into a story arc that takes place over several weeks and/or months.
What do you think? Should "General Hospital" move forward with its plan to off Duke Lavery? How would you go about keeping the character around the canvas if you were the in the writers room?