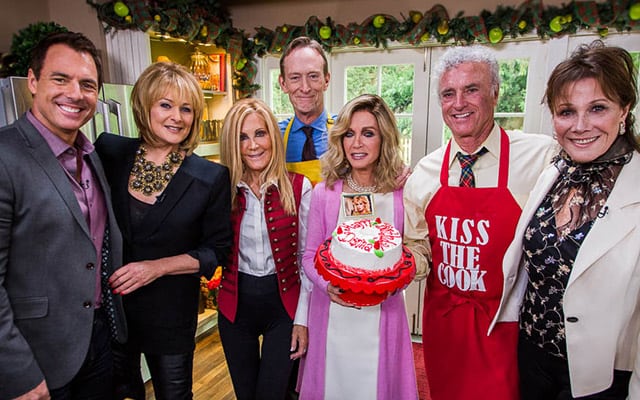 As previously reported, the cast of "Knots Landing" will reunite on the Thursday, December 11 edition of Hallmark Channel's "Home & Family."
In your first look at the reunion, cast members of the popular primetime soap opera – Donna Mills, Joan Van Ark, Michele Lee, Ted Shackelford and Kevin Dobson – sat down with hosts Mark Steines and Cristina Ferrare to discuss life after the cul-de-sac, while also taking time to celebrate Mills' birthday.
Surprising the cast was Alec Baldwin, who portrayed Joshua Rush on the series in the mid-1980s. The actor appeared via video conference during the reunion episode as noted in our gallery above. In addition to the Baldwin surprise, look for the talk show to also celebrate the birthday of Mills, who turns 74 on December 11.
"Home & Family" airs weekdays from 10:00 AM to 12:00 PM, ET on Hallmark Channel.