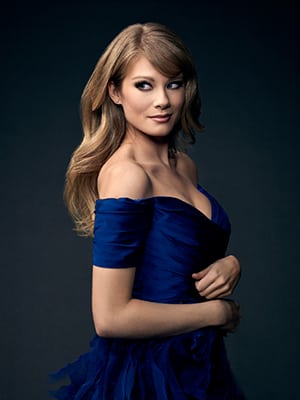 As previously reported, actress Kim Matula has opted to exit CBS' "The Bold and the Beautiful" after portraying the contract role of Hope Logan on the daytime drama series for the last five years. In a posting on her Instagram page, Matula confirms her exit and shares what led to her decision to leave the world's most watched soap!
"What can I say about today? I can officially confirm that I filmed my last scenes at 'The Bold and The Beautiful,' read the beginning of her message to fans. "It was a day full of love and laughter and reminiscing about the past 5 years. I made the incredibly difficult decision not to resign my contract so that I could spread my wings as an actor and see what this big beautiful world has to offer. But I can never put into words just how amazing and inspiring this show has been. What a huge part of my life. I do not see this as a 'goodbye' but more of a "see you later." Thank you for giving me an unforgettable 5 years as Hope Logan and thank you to every single viewer who sat side by side with me on this journey. Cheers to the next adventure!!"
While a rep for the soap shares that there are currently no plans to recast the role, one has to wonder how Hope will leave the canvas considering she's embedded in several major storylines, including a pregnancy.