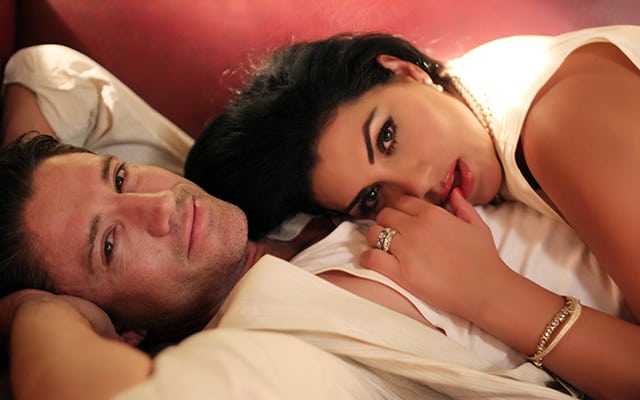 Roxanna's steamy "Unforgotten" music video featuring "Days of our Lives'" James Scott (ex-EJ DiMera) set the world on fire, and the flames will continue to roar: The pair has reunited in a second music video for the singer's next single, "Here With Me," which serves as a prequel to "Unforgotten." And guess what? Soap Opera Network sat down with both Scott — who recently departed the daytime world — and Roxanna to get the scoop on what fans can expect from Part Two of their onscreen romance!
"Unforgotten" is an apt title for the song and music video that brought Roxanna — a sultry singer from Iran — and Scott together; since its debut in 2012, it's been unforgotten in fans' minds, which is why the crooner asked him if he'd work with her again. And she realizes just how lucky she is that he said yes! "There are thousands, maybe millions, of girls out there that are wanting to be me," she says with a smile of reuniting with Scott. "And I was lucky enough that I captured his attention."
As fans may recall, the "Unforgotten" music video featured the pair in quite a steamy situation — complete with a classic Hollywood-esque dance scene as well as the two writhing together in a desert hotel bed. And this prequel will be equally sexy, albeit in a different way. "The one we're shooting now has a real film noir sensibility to it; it's set in sort of period," Scott reveals. "My character, going back a little bit, is a little bit more refined, more of a James Cagney type character. And there is a real elegance and beauty to this story. It has a much more romantic sensibility, much more fantasy… It is less intense in terms of the overt physical dynamic between the two characters, but I think that the underplay of the relationship between the two is actually much, much more intense."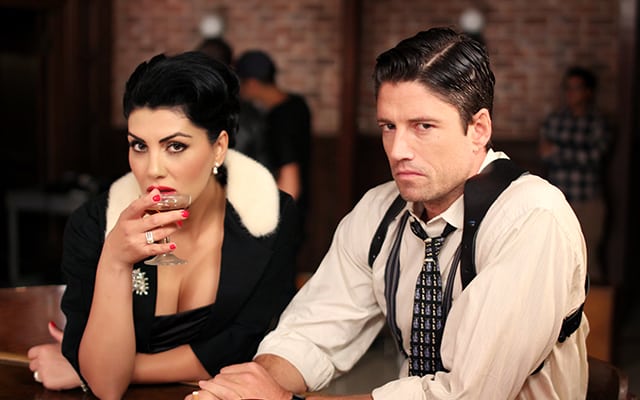 "The story is a love/hate relationship," adds Roxanna. "Two people love each other, but they love each other so much, they develop hate, but they can't stay away from each other. And then, no matter how much they get hurt, they keep coming back for more. It's like spicy food, no matter how much you get hurt or burned, you want more."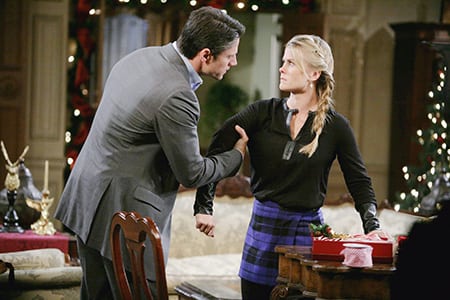 Hhhmmm? Sound familiar? It sure did to Scott. "It's a bit like EJ and Sami [Alison Sweeney]," he jokes before adding that the true story of how the song and music video concept was conceived is actually quite beautiful: It was inspired by Roxanna's mother's death and her parent's real-life love story.
"I lost my mom in 2013, and it was disastrous for me; I was very close with her," the singer shares. "So when she passed, my sister and I [went] home, and we were taking some stuff, and my sister said, 'What would you like?' And I said, 'I don't want anything except the poetry book,' which was a poetry book that my dad gave my mom 40-something years ago when they were very much in love. She used to read this poetry book, which is written in Farsi, to us when we were little girls, and… she had some dried roses that my father gave her inside. So… 'Here With Me' is about my mother and father's love and how it's never going to end. When I sang this song at the studio, I really felt that she was with me, and I put my whole passion into it. I cried a lot when I sang the song. It was very intense."
Consequently, Roxanna wanted the video to pay homage to her mother, and she believes it does just that. "I know the way my mom felt about my father, I saw the look in her eyes, and I'm ready to show that to [Scott during the shooting of the video]," she says, adding that her mother "was always presenting herself as a lady, she was always dressed up so nicely, and she loved 40s and 50s movie stars," which is why this video has a classic Hollywood feel.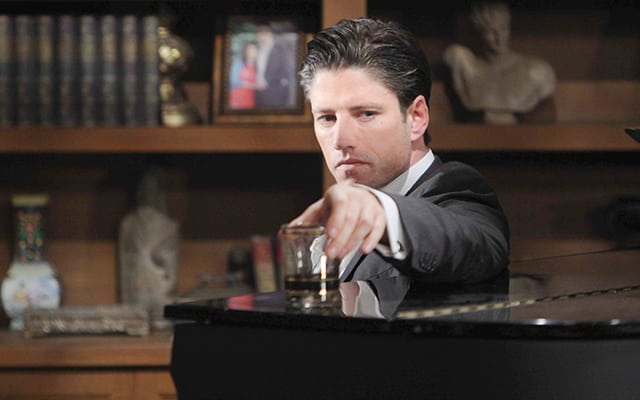 "It's an exciting project, and this young director, Samuel Gonzalez Jr., is tremendously gifted," Scott chimes in, adding that the shoot is a far cry from his previous "Days of our Lives" work. "We would tape one page every three minutes at 'Days of our Lives,' and we basically would do about 60 to 70 pages of dialogue, depending on the day and the director, which is a lot. So we'd often not rehearse. Often, we'd go straight to tape, and often, when you see something air on television, that's the first time that actor said those words to the other actor on that set. And so it's wonderful to be able to work in an environment where we're just going to keep doing it and get it right, and we can take the time to experiment and play and create. At 'Days of our Lives,' I'd walk out of that studio, and this happened at least twice a week, I'd walk out, and there's a long corridor before you get to the car park, and I'd walk down there and I would know how I could do the scene better — but there is no opportunity to redo it! You can have the realization, you make the discovery and there's nothing you can do with it. And here, we can make a discovery, and we can stop and we can really explore it and examine it and bring it to life, and that creative process is something that I have certainly missed on the show, obviously due to circumstances beyond anybody's control that don't allow that anymore. But it's something that is, for me, is a privilege."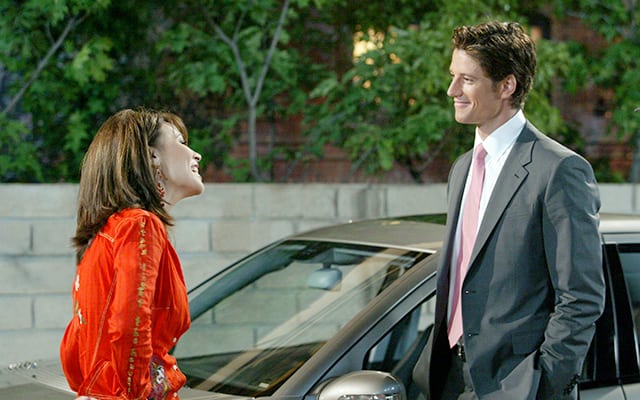 Speaking of "DAYS," Roxanna has been a fan of the soap for quite some time, which is how she initially discovered Scott. "When I saw him the first time on 'Days of our Lives,' I fell in love with his character, his gorgeousness, everything, and I said to my friends, I was studying nursing back then… and I said, 'That guy is so hot! One day I'm going to meet him.' And they were like, 'Yeah right, get in line!'" she recalls with a laugh. "All of my friends are obsessed with him, and I said, 'I will do it.' And I was writing 'Unforgotten,' it was almost done, but we weren't even finished with it, and I said [to my music producer], I said, 'Mark, I want to make a music video of this, and I want James.'"
READ ALSO: Singer Spills Thoughts On Getting Sexy With 'DAYS" James Scott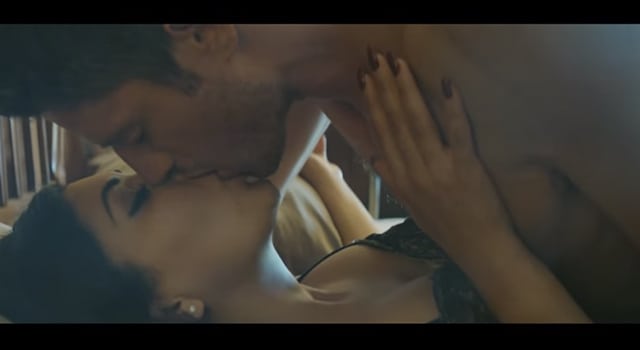 "It is seriously a wonderful story," recalls Scott of how the singer convinced him to sign on. "I was at work one day, and I get a telephone call from somebody saying, 'There's some girl from Canada at the security gate who's a singer, and she wants you to be in a music video. And she wants to come on the studio premises.' And I said, 'I don't know any singer from Canada,' and they said, 'Well really, she's adamant that she needs to meet you and that you have to be in her music video.' It's very flattering, so I said to somebody in publicity, 'Well, just get this girl's information, and we'll see.' And then we had a chat, and I was just tremendously impressed both with how talented Roxanna is as a singer — I think she's a very gifted singer and also a gifted songwriter — but also, very much in admiration of her tenacity and her determination to just fly all the way from Canada and knock on my door, so to speak, and say, 'Hey, come on, let's do this.'"
And the admiration of talent seems to be mutual: "I wish James would win Oscars, because he's that good, to me," Roxanna enthuses of how she feels about the actor. "He gets into his character very well, and he's professional. When I was nervous the first time [we worked together], I came onto the set and everything was so hot, and he was telling me to breath and relax, and he was teaching me how to act. I'm not a great actor, but he taught me some things to do and how to act, and it worked."
And, though Scott denies it, the singer insists that he helped her dance in the "Unforgotten" music video, as well! "I was so embarrassed, nevermind the fact that it was my first time meeting him and touching him, and it was the first time in dance rehearsal, and I had no idea what the heck I was doing, and he was telling me, 'This foot! No, this foot!'" she recalls with a laugh. "But in the video for 'Unforgotten,' if you saw the part where he enters the bar and we were dancing a little bit, and I fall down? That was not supposed to happen. My feet were so much in pain with those shoes, and it was so painful that I think I was just falling, and he grabbed me, and it was late, and it worked, and it felt like, 'Yes, I'm in love!' So he is a great dancer. I saw him dance on 'DAYS,' the tango and all of that."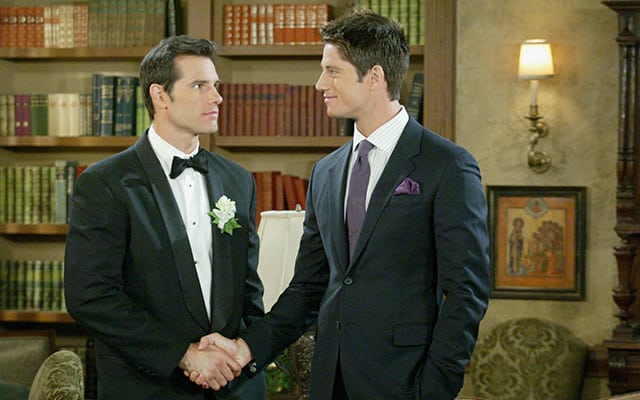 "Uh, what you didn't see were the hours of rehearsals behind the scenes where Alison Sweeney, bless her, put up with me standing on her toes all day!" Scott interrupts with a big smile. "Do you remember Austin Peck, who was on the show many years ago? He played Austin, and we had to do a dance scene, and… I remember watching him at the dance rehearsal, and he is good! He was graceful, elegant, he picked up the moves quickly. The top half of his body was in sync with the bottom half of his body, and I just remember watching him and he really has a beautiful, natural ability to dance. I haven't got that."
READ ALSO: James Scott Reveals Why He Left 'DAYS,' How He Truly Feels About EJ's Demise and What's Ahead in His Life and Future Career
Dancing aside, both Scott and Roxanna are looking forward to seeing the final version of the "Here With Me" music video. "It's a wonderful crew, whom I've worked with before, and… Roxanna is a wonderfully talented singer," Scott enthuses. "We're really quite excited to see what [the director] comes up with."
For more information regarding the music video, as well as updates as to when it is expected to be released for fan viewing, follow Roxanna's official website and Twitter page.