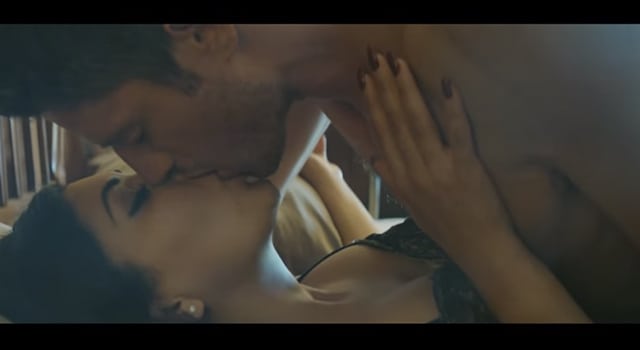 It may have been released quite some time ago, but fan reaction to Roxanna's "Unforgotten" music video starring "Days of our Lives" James Scott (EJ DiMera) is still going strong. Soap Opera Network recently re-posted the steamy music video, but if that wasn't enough for you (and we imagine it wasn't), then you'll be happy to hear that Roxanna shared what it was like getting so up close and personal with Scott during the making of the sexy video! Check out her memories after the jump, as told to writer Roxanne Smith exclusively for SON.
Unforgettable Moments

Written by: Roxanne Smith

Upon my arrival at Roxanna's charming home in Toronto, I was greeted at the door and welcomed into the lavish foyer. I could hear Chopin playing in the background as Roxanna entered the room to introduce herself.  Wearing a flowing white dress and long, soft curls that seemed to dance around the rose she had tucked seductively behind her ear and in her arms, her beautiful Maltese princess, Tiffany. I instantly felt a calming sensation, not the usual nerves that are a precursor to many an interview.  She has a natural charm and kindness that is instantly palpable.

As we sat in her sun filled living room, she begins to explain to me the memorable experience of filming her music video for "Unforgotten", the first single off her debut album "Exotica" which was released on July 8th.

Roxanna, a long-time fan of the daytime drama "Days of Our Lives," had her heart and mind set on having James Scott star opposite her in her video.  After personal visits to the NBC Studios where the show was filmed, to unanswered calls and emails, Roxanna's publicist at Miles High Productions sent a letter along with her single in the hopes of convincing him to take on the project. Their efforts were not in vein as James Scott finally agreed and an over the moon, elated Roxanna thought to herself "…this is the man of my dreams and he is going to be starring in my music video with me."

Their first meeting would be at rehearsal, two days before filming.  Roxanna recalls seeing the tall, suave James Scott walk in the room but Roxanna, playing coy and battling nerves that had her heart racing and body trembling, dismissed his presence until he approached her, at which point she continued to play aloof.  "I was so nervous; I thought to myself 'Oh my God, he is so awesome.' I could barely move, let alone dance".  Those nerves were soon to melt away. "He sensed my nervousness but was so patient and reassuring; he put me at ease instantly".

Filming began in Palmdale, California on one of the hottest days on record, a sweltering 110 degrees.  The long 18 hour day in such unbelievable heat made filming a challenge both physically and technically. "The equipment kept malfunctioning because of the heat, it was definitely difficult."  Despite the challenges, the result was a fantasy laced, sultry story of a woman scorned.   The chemistry between James Scott and Roxanna is undeniable and is evident throughout the story.  When it came time to film the steamy love scene any remnants of nerves were but a distant memory.  "I wasn't nervous any longer, James was a true professional throughout the entire process, and I respect and admire him."  What started as a business collaboration has since developed into a friendship. "We still keep in touch and I must say, I was so disappointed to hear he wasn't cast as Christian Grey in '50 Shades of Grey' but I know he will go on to do wonderful things, he is immensely talented".  Roxanna goes on to explain how her experience with James Scott and the filming of her first music video provided a source of inspiration for her song "Thank-you," which is available on the Exotica Deluxe Edition on ITunes.

Roxanna looks down at Tiffany who is nestled in her lap, she lovingly strokes her says in a whispered voice "The entire experience was so rewarding both personally and professionally, to be able to work with so many truly talented people is impossible to put into words, I am forever grateful for the experience" she smiles, almost as though she is drawn back to those sweltering hot, sultry days in Palmdale California.