Former "All My Children" star Cameron Mathison (ex-Ryan Lavery) has kept himself very busy as a correspondent for "Extra" and designing a line of children's clothing with wife, Vanessa, but that hasn't kept the Canadian away from acting. In fact, he'll be appearing in the Hallmark Movies & Mysteries film, "Along Came a Nanny," which premieres this weekend!
The film follows handsome detective Mike Logan (Mathison), who goes undercover as a nanny after a series of burglaries plagues an upscale, gated community. When the Bannermans, a high maintenance family in need of domestic assistance, hire Mike as their nanny, he forms an unlikely bond with the Bannerman children (Valin Shinyei and Jena Skodje) and develops a crush on Jessie (Sarah Lancaster), a beautiful nanny who works nearby. Struggling in his new role, an overwhelmed Mike soon falls out of favor with the children, who sense they're in less than capable hands.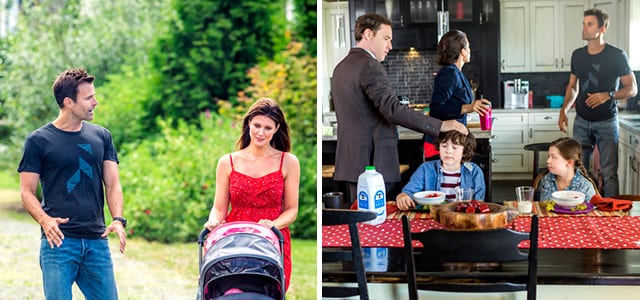 Meanwhile, tensions rise as Police Captain Frank Milano (Tom McBeath) grows frustrated with Mike for making little headway in solving the high profile case. Amid a scandalous mayoral election and a growing list of local crime suspects, will Mike bring the criminals to justice, while trying to win back the affection of the Bannerman children and the heart of fellow nanny Jessie?
Find out when "Along Came a Nanny" make its world premiere on Hallmark's Movies & Mysteries channel on Sunday, October 12 at 9/8C.