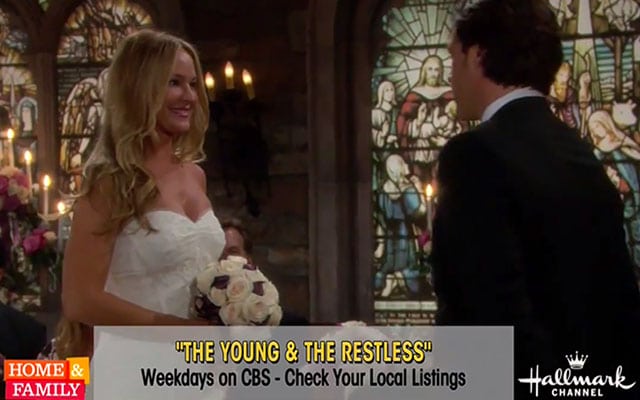 On today's episode of CBS' "The Young and the Restless," the Nicholas and Sharon Bachelor/Bachelorette party is about to go down in the history books as the one which found 20 of the show's characters all get arrested at the same exact time during the same exact event, a first for daytime television. "It's one of the funniest shows we've shot in so long. Everybody is in the show. It's a bachelor and a bachelorette party, everything goes wrong, everybody had so much fun. I mean, we had fun shooting it, the characters were having a great time at this party. It really was almost like 'The Hangover' [the movie] kind of," shared Sharon Case (Sharon) in a joint interview with Joshua Morrow (Nicholas) set to air today on Hallmark Channel's "Home & Family."
"Well it didn't go that far," Case jokingly corrected when co-host Mark Steines pointed out "The Hangover" wasn't fit for television. "It was so many characters together. It's basically inmates running the asylum. I don't know how we got anything accomplished that day because what happens is, 'Okay, this is a crazy bachelor party,' so everybody starts acting like that and it just took forever to shoot, but it was really fun and there is a reason why they don't let us all get together throughout the year," added Morrow.
When asked about how daytime compares to cable programming in today's terms of tone and raciness by co-host Cristina Ferrare, Case notes that daytime used to do a lot more love scenes back in the day than they do now. "They toned it down! We used to do a lot of love scenes when we first started [on] the show. We would to do these love montages with music. The soaps were really into that and then for the last 10 years, it's been very little of that on our show for sure, and not even… I don't see much of that on the other shows either." Joked Morrow in response, "Sharon's big complaint actually is we were not naked enough!" Case agreed and shared that producers have finally listened to her. "So they finally listened to me. This year, we've had three or four really hot scenes – one in the bathtub – they finally took my advice. I think that people want to see that."
Of course, fans also want to see a good wedding. The folks at "Home & Family" have your first look at the wedding of Nicholas and Sharon, which is set to air on Friday, October 3 and Monday, October 6. In it, Nicholas watches his beautiful bride-to-be walking down the aisle with friends and family all gathered together. When she arrives at his side, he tells her, "Let's do this!" Interestingly, even Nicholas' ex Avery (Jessica Collins) shows up for the nuptials and happens to be sitting right next to Austin (Matthew Atkinson), who just a few short months ago tried to kill her. Only on a soap…
In the end, if you're wondering if Nicholas and Sharon do get end up getting married, Morrow explains, "It wouldn't be a soap opera if things went off without a hitch," which Case says may include "something dramatic" happening. Of course, the only thing they can reveal about the episodes is that their characters do end up keeping their clothes on.
To catch Case and Morrow on "Home & Family," tune into Hallmark Channel today at 10:00 AM ET/PT.