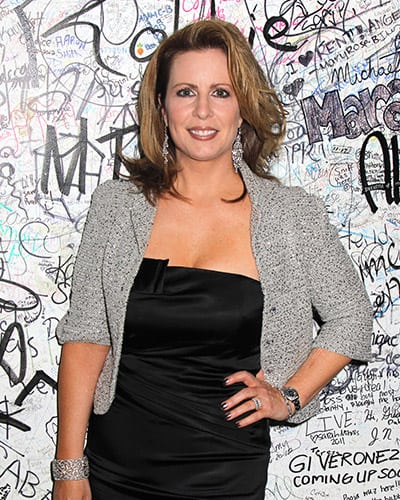 If you've ever tuned into NBC's "The Biggest Loser" and wondered what life is like for the contestants following their grueling experience, former "As The World Turns" actress Martha Byrne (ex-Lily Snyder) along with writer Daryn Strauss have come together for a new series that hopes to give you the answers you crave. In "Weight: The Series," Byrne portrays the role of Claire Carlson, a mom who loses 100 pounds on a reality show and then has to contend with the absurd and complicated reactions of her friends and family as she attempts to balance the day to day pressures of staying thin and appearing on reality TV. If the description sounds interesting to you, you might be interested in attending a VIP Soap Party and Advanced Screening of the pilot alongside several of daytime's biggest and brightest stars!
With a basic cost of $50 or $75 for VIP access, some of daytime's biggest fans can join Byrne on Wednesday, October 8, at 7:00 pm at the Galway Pub in New York City, along with soap stars Colleen Zenk ("ATWT", "Tainted Dreams"), Anne Sayre ("Another World," "ATWT," "Gotham: The Series"), Michael Park ("ATWT," "Gotham: The Series"), Terri Conn ("ATWT," "One Life to Live"), Elizabeth Hubbard ("ATWT"), Lisa Brown ("ATWT," "Gotham: The Series," "Guiding Light"), Lauren B. Martin ("ATWT"), Elizabeth Keifer ("GL," "Venice: The Series") and Larkin Malloy ("All My Children, "GL"), with additional cast members from the web series "Tainted Dreams," and Danielle Paige (former "GL" writer and author of New York Times Bestseller "Dorothy Must Die"), among others, for a screening of the pilot episode of "Weight."
Note: If you purchased tickets through the show's Indiegogo campaign, you are already on the guest list!
For a sneak peek at "Weight" before the premiere, click play below:

To purchase tickets or to see how you can help the project along, click here.
"Weight" also stars Allison Smith ("The West Wing") as Claire's sister, Bradley White ("Masters of Sex") as Claire's husband, Dee Freeman ("Pretty: The Series," "The Hughleys"), Maitely Weismann ("Masters of Sex") and Trent Dawson ("ATWT," "Homeland"). Claire's daughters are played by Peyton Ella ("The Sound of Music Live!") and Kate West (daughter of "General Hospital's" Maura West) and is directed by Frederick King Keller ("Blue Bloods").