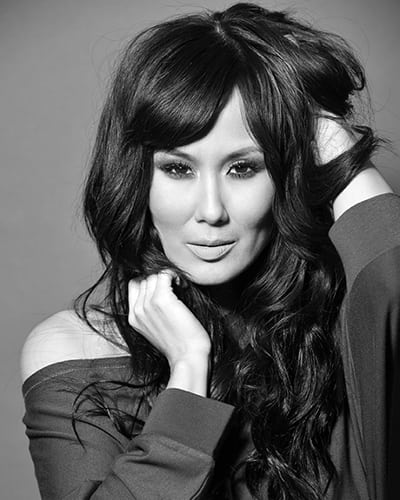 It wasn't that long ago that Minae Noji was starring as "General Hospital's" Dr. Kelly Lee, and now — BAM! — she's portraying the fierce ninja warrior Karai in the newest installment of the Teenage Mutant Ninja Turtles film franchise. Soap Opera Network caught up with the busy actress, who spilled details regarding the film, what Megan Fox is really like in the role of April O'Neil, and how her "GH" experience ultimately led her to sharing the screen and red carpet with the likes of Whoopi Goldberg, William Fichtner and Will Arnett.
As Ninja Turtle Michelangelo, once said, "Dudes and Dudettes: Major-league butt-kicking is back in town!" The quote is from the 1990s, when the comic book characters first hit the big screen, but it's an apt description of the franchise's current installment, due out in theaters on Friday, August 8. Noji portrays Karai, who's sometimes the daughter of the story's main villain, Shredder (Tohoru Masamune). And while the actress wasn't able to spill details regarding how this film portrays her relationship with the notorious ninja, she revealed a lot regarding what it's like to play a villainess, as well as star in a major box office film.
"This is dream come true for me," Noji enthuses about the opportunity to be a part of the TMNT franchise. "I was a mega fan growing up: I read some of the comics, and I watched all of the cartoons and the movies, and I had pet turtles and pet rats, I collected the figurines, and my nickname was Donatella. So if you had told me when I was a little kid that I'd be in this movie years later, I would not have believed it. It was such a fantasy of mine."
Typically, Karai is portrayed as a high-ranking member of a famous ninja clan and can be quite the baddie. And as Noji reveals, this version of the popular character is no different. "Karai means severe or spicy, and she definitely lives up to that name," the actress comments. "She's had varied histories, not only with Shredder, but with Splinter and the turtles and all of that. Unfortunately, I can't divulge [those details] but I can say that she's definitely still on the bad side She's a baddie, and she's definitely a firecracker."
Which, of course, was a lot of fun for Noji to embody. "I've always been magnetized to women who are strong women warriors — not necessarily physically, but as a spirit, as a soul, with inner strength," she shares. "And you know, Dr. Kelly Lee on 'General Hospital' had a strength to her. She wasn't obviously fighting everything, but it's fun to play women who are strong on the outside as well as on the inside, because you don't always see that."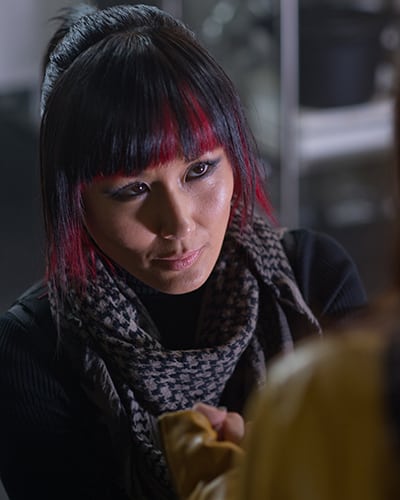 In this case, part of portraying a tough female character involved learning some interesting news skills, and now Noji can kick butt in real life, too! "We had to learn some weaponry skills, and we did some fight training as well," she says. "We also got some gun training, which for me, was fun. I already knew how to use a gun a little bit, but what was interesting was to learn literally how to walk and run with it and move around corners and do some of the things they do when they're looking for a bad guy… It was kind of like being in a video game, and I'm a huge gamer, so it was a blast for me."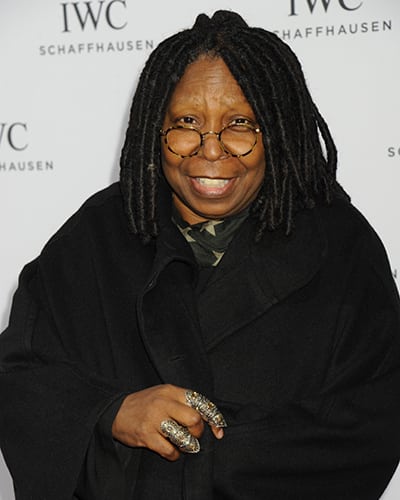 However, despite learning how to thrown down, some of the onscreen action required the help of her stunt double, Kimmy Suzuki. "I did some of my own stunts, but any time you see me getting thrashed, that was Kimmy," the actress says with a laugh. "She's amazing. My character gets thrown around a little bit, so I would watch Kimmy and go, 'Ouch!'"
In addition to Suzuki, Noji was thrilled to be able to work with other well-known actors, including Megan Fox, who plays journalist April O'Neil in the film, and Whoopi Goldberg, who plays Bernadette Thompson. "I could barely speak when I met Whoopi Goldberg," she recalls with a laugh. "I've always been a huge fan of hers. I grew up with her, so oh yeah, I was a fool when I came up to her. I was a blithering idiot! But she is so courteous and kind and funny, obviously, and wonderful to be around. She was super cool and warm. I looked like a deer in headlights when I was talking to her; my eyes were really big. I don't remember exactly what I said, but she was nothing but warm. Very warm."
As for working with Fox, "She was also fantastic," Noji says. "She's very much with you, meaning she's in the moment. She's very focused and with you and very sweet. We had some nice talks, because there's always a lot of down time and waiting around, and she was nothing but kind."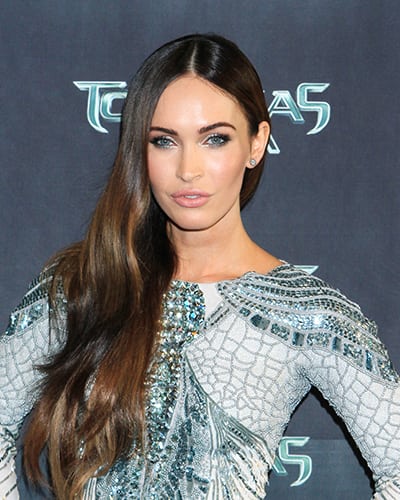 Fox's casting in the role has been a bit controversial, with many fans unsure whether or not she was the right choice for the popular character. But Noji assures that the brunette brought a good dynamic to the part. "I tried to just go in without an idea of how she was going to be and just sort of see what Megan would bring to it, and I think she did a really good job," she opines. "She's deep and she's interesting to watch, and she gave a good personality to April. There are always different versions of April, but I thought Megan did a really good job. I think the fans are going to be happy with it."
For a sneak peek of the film, which hits movie theaters tomorrow, Friday, August 8, check out the official trailer below. And for more from Noji, including details regarding her new web series, "Love Midori," and more about her experience filming "TMNT," stay tuned for Part Two of Soap Opera Network's Center Stage interview with the actress!